Saving Money on Toner & Inkjet Cartridges
Solutions
Share on ThriftyFunThis page contains the following solutions. Have something to add? Please share your solution!
I just learned this one yesterday. Wish I had learned it long ago, as it would have saved me a lot of aggravation. I am assuming this is true for a lot of printers, so I am passing it on.
Being home schoolers, we use a lot of ink and paper. To save, I have Walgreen's refill my ink cartridges (for an HP 2210) when they run their specials of refills for $5, or I buy the used/refurbished ones at Office Depot or Walmart. Usually they work, sometimes they don't. Sometimes I will have one that I have used several times, and it will suddenly just stop for no reason.
This happened again this week. My nearest Walgreen or Office Depot is 30 minutes away, so its a real pain to go buy one and bring it home only to find it won't work. And, the two I got wouldn't work. I called HP to see if there was a work around as I didn't want to drive all the way back again. I mean we are talking 100 miles for 2 trips.
I was told to look at my cartridge for a date. There is evidently a microchip in the ink cartridge that tells the printer when that date has arrived. When that date gets here, it is considered to be an expired cartridge and will no longer work. The two ink cartridges I bought were indeed expired (sold to me by Office Depot in October and one had expired in April of 2007). That also explains why ones I have refilled over and over suddenly stop, the date came up.
So, I will no longer refill them close to or past the expiration date, and I will open the box and check the expiration date of refurbished ones at the cash register before I drive all the way back home.
I thought this was worth passing on!
Source: HP customer service rep
By mom-from-missouri from NW Missouri
Read More Comments
I just bought several new refurbished ink cartridges at the local office store and they would not work. So, I took them back. The manager pointed out to me they were expired and should not have been on the shelf. They were HP refurbished/refilled cartridges. He explained to me that after time, ones that are refilled lose head quality and can sometimes even damage your printer. So, they have a microchip in them that will cause them to quit working on the expiration date, even if they are still full of ink.
I thought that was odd, so I called HP. They transferred me to numerous people until I got a guy who knew what I was talking about and he confirmed what the manager of Office Depot told me.
So, check for the expiration dates. If you buy several, rotate them so that they don't expire and quit working on you. This is true for HP, don't know about the other brands.
With some cartridges costing up to $60 or more, this tip can save lots of money.
Read More Comments
This may apply to you if you have a computer with a printer. Specifically a printer that warns you or "shows" you it is low or even out of ink. You should test how long you can use you printer before you are actually out of ink. Don't trust the program telling you about it.
Read More...
If you use your printer a little or a lot, ink is still expensive. I use my regular printer a lot, mostly black but it still "uses" color inks.
Read More...
To save up to 30% on ink when printing, use the narrowest font possible. I never would have thought of this on my own.
Read More...
Save money on printer ink. When printing, under Preferences choose "Draft." You will find the copy quite dark. It's surprising. It makes your printer ink go further.
Read More...
Some of us have printer/fax machines that are costly. I know that after purchasing my Canon printer, I began to regret it because I felt that I couldn't afford it.
Read More...
If you are using a black cartridge and trying to save the color cartridge, it can dry out... store it in a ziplock bag with a moist paper towel.
Read More...
Questions
Ask a QuestionHere are the questions asked by community members. Read on to see the answers provided by the ThriftyFun community or ask a new question.
Tips and advice for saving money on ink cartridges for your printer. Post your ideas.
Answers
January 21, 2005
0

found this helpful
Ink cartridges can cost a fortune. They also do not last as long as they used to. I have come up with the frugalist way to refill and eventually earn free cartridges from Office Depot. Buy the better kits, and soak your clogged cartridges in the designated cleaning fluid, sometimes this will take a few days.
Refill, wipe the inside area of the printer with cotton and cotton swabs with alcohol, save the printer cleaning fluid to unclog that cartridge to get it refill one more time. If it finally gave up the ghost, time to recycle. Go to Office Depot and ask for the little bags for cartridge refills when you return enough you then receive a free cartridge.
By Shelley Wagner
By Harlean from Arkansas (Guest Post)
January 21, 2005
0

found this helpful
I buy my ink from Sam's Club and refill my cartridges. I have a Canon printer, and each color is a separate tank, so this makes refilling pretty easy. At Sam's, a refill kit that costs $20 gives you 1 bottle of each color, cyan, magenta and yellow. Also, in case you have a printer that takes special photographic ink, there is 1 bottle of each, photo cyan and photo magenta. And 2 bottles of black. These bottles are 85 ML which appears to be about 3 ounces. They include a manual that lists all the different printers with detailed instructions on how to prepare and refill the cartridges. Also all the necessary equipment to work with, such as rubber stoppers to seal the cartridge back.
I can't even guess how much money this has saved me in the 6 years that I have had a computer. I know that I print way more than the average user. Many people don't take the price of the ink refills into consideration when they purchase a printer. Cheaper is not really cheaper if you don't refill your own. And just FYI, your printer manufacturer cannot void your warranty because you choose to refill rather than buy their cartridges.You might try this link that is listed on the bottles of ink. They may be selling the kit on the net.
www/easyinkjetrefill.com
Harlean
June 1, 2005
0

found this helpful
Make sure your home printer is on black and white default. The ink is less expensive than color.
By Rennae G
January 10, 2006
0

found this helpful
I have tried refilling different brands of cartridges with no luck at all. I found "Master Inkjets" to be inexpensive, $14.95 for color or black and white for many brands. They are very quick, guarantee their work and pay the postage! Just go to Masterinkjets.com they are great.
GH in OK""
February 1, 2006
0

found this helpful
When the ink cartridge starts to fade, take it out and give it a little shake. You can get quite a few more pages out of it. Also, don't forget to choose "Fast Draft" for printing things that don't have to look excellent--shopping lists, for example.
October 24, 2007
0

found this helpful
Go to www.ims-ink.com to get an excellent refill kit that I bought at Cosco. It has the needle connected to the bottle so there isn't as much as a mess. It has 2 bottles of black and the three colors in photo and regular. They are all 80ml. A total of 640 ml of ink. A really good deal for those who fill up there ink and you don't have to have the store membership to get it.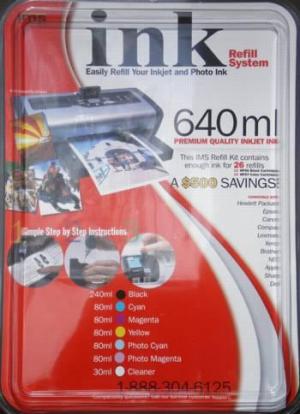 By hwm98264 (Guest Post)
March 28, 2008
0

found this helpful
Local Costco no longer carries Ims-Ink refill kits. Last one I bought cost $20. The 240ml is 3 bottles of Black @ 80ml/bottle. I refill a Brother MFC3420C and have never had any difficulty with refills. I previously have refilled Epson and Lexmark ink-jets.
This Bother is my favorite. I use the copy and scanner frequently. Refill is the only way to go. It saves you a fortune.
Answer

this Question

...
Some consumers like to save money on printer cartridges by refilling their own. If you have access to the ink then the process is usually quite simple. This is a page about refilling printer ink cartridges.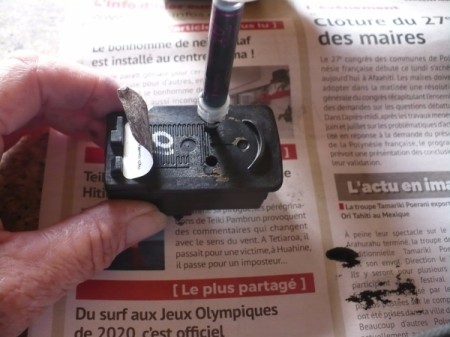 Archives
ThriftyFun is one of the longest running frugal living communities on the Internet. These are archives of older discussions.
Switch your printer font to Century Gothic. It uses less ink than other fonts.
Source: Women's World

By Lynda from Kearny NJ

Feedback:
By Lelia Jo Cordell 02/28/2011

I hadn't really thought about the difference in the fonts and how much ink or toner they use. I don't print much, but for those who do, this is a great tip! Thanks, Linda.
---
By eileen 02/24/2011

I have used both fast draft and gray scale. Finally I decided to choose a less black color with your document's choice of ink color. Choose one that is a little blacker than gray and you will save even more ink! Most people (unless they have poor eyesight) will be able to read the text even with the color change. Try it - you just might like it!
---
Does your computer printer use a lot of ink? Mine does, even when I go in and change the printer to fast draft before printing and gray scale only. You may want to consider changing the font setting to cut ink consumption. Ecofont, a Dutch company, has developed a set of fonts that uses 15 percent less ink by essentially leaving small holes in printed letters. The Ecofont website allows you to download an ink-saving font. Ecofont ink-sparing fonts include Times New Roman, Calibri and Franklin Gothic Medium. I hope you like this tip as much as I do!

Source: AARP news letter

By Bobbie G from Rockwall, TX

Answers:
Use EcoFont to Save Printer Ink
I just did this, downloaded their free shareware font and tried it out. I have no idea if it will save that much ink, but the font is pretty cute, with tiny little dots inside each letter, forming the same shape as the letter, like a dot T inside the letter T. My daughter likes it, and says it looks like "polka dot ribbon". I will see if I notice a difference in ink consumption. (08/25/2010)

By Antoinette
Use EcoFont to Save Printer Ink
I'd never thought of this, since I use toner. But I have a friend on a fixed income with an "inkasaurus" who'll love it! (08/26/2010)

Advertisement
Published by ThriftyFun.
© 1997-2020 by Cumuli, Inc. All Rights Reserved.
https://www.thriftyfun.com/tf/Computers/Printers/Ink/Saving-Money-on-Toner-Inkjet-Cartridges.html