January 21, 2005
0

found this helpful
Ink cartridges can cost a fortune. They also do not last as long as they used to. I have come up with the frugalist way to refill and eventually earn free cartridges from Office Depot. Buy the better kits, and soak your clogged cartridges in the designated cleaning fluid, sometimes this will take a few days. Refill, wipe the inside area of the printer with cotton and cotton swabs with alcohol, save the printer cleaning fluid to unclog that cartridge to get it refill one more time. If it finally gave up the ghost, time to recycle. Go to Office Depot and ask for the little bags for cartridge refills when you return enough you then receive a free cartridge.
By Shelley Wagner
By Harlean from Arkansas (Guest Post)
January 21, 2005
0

found this helpful
I buy my ink from Sam's Club and refill my cartridges. I have a Canon printer, and each color is a separate tank, so this makes refilling pretty easy. At Sam's, a refill kit that costs $20 gives you 1 bottle of each color, cyan, magenta and yellow. Also, in case you have a printer that takes special photographic ink, there is 1 bottle of each, photo cyan and photo magenta. And 2 bottles of black. These bottles are 85 ML which appears to be about 3 ounces. They include a manual that lists all the different printers with detailed instructions on how to prepare and refill the cartridges. Also all the necessary equipment to work with, such as rubber stoppers to seal the cartridge back.
I can't even guess how much money this has saved me in the 6 years that I have had a computer. I know that I print way more than the average user. Many people don't take the price of the ink refills into consideration when they purchase a printer. Cheaper is not really cheaper if you don't refill your own. And just FYI, your printer manufacturer cannot void your warranty because you choose to refill rather than buy their cartridges.You might try this link that is listed on the bottles of ink. They may be selling the kit on the net.
www/easyinkjetrefill.com
Harlean
June 1, 2005
0

found this helpful
Make sure your home printer is on black and white default. The ink is less expensive than color.
By Rennae G
January 10, 2006
0

found this helpful
I have tried refilling different brands of cartridges with no luck at all. I found "Master Inkjets" to be inexpensive, $14.95 for color or black and white for many brands. They are very quick, guarantee their work and pay the postage! Just go to Masterinkjets.com they are great.
GH in OK""
February 1, 2006
0

found this helpful
When the ink cartridge starts to fade, take it out and give it a little shake. You can get quite a few more pages out of it. Also, don't forget to choose "Fast Draft" for printing things that don't have to look excellent--shopping lists, for example.
October 24, 2007
0

found this helpful
Go to www.ims-ink.com to get an excellent refill kit that I bought at Cosco. It has the needle connected to the bottle so there isn't as much as a mess. It has 2 bottles of black and the three colors in photo and regular.
They are all 80ml. A total of 640 ml of ink. A really good deal for those who fill up there ink and you don't have to have the store membership to get it.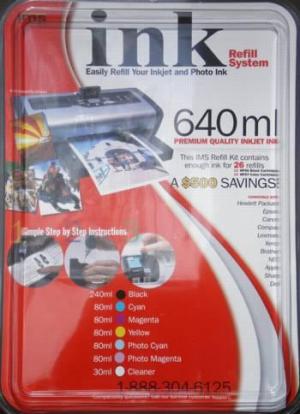 By hwm98264 (Guest Post)
March 28, 2008
0

found this helpful
Local Costco no longer carries Ims-Ink refill kits. Last one I bought cost $20. The 240ml is 3 bottles of Black @ 80ml/bottle. I refill a Brother MFC3420C and have never had any difficulty with refills. I previously have refilled Epson and Lexmark ink-jets.
This Bother is my favorite. I use the copy and scanner frequently. Refill is the only way to go. It saves you a fortune.