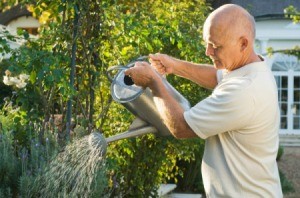 Question:
I have a problem. We live in the city and use city water. Apparently the water is high in something, calcium maybe, because all of my plants get a white crust around them that they didn't have when I lived in the country and used well water. (I had to give up my aquarium because of this awful white build-up.) We don't get enough rain to be able to collect rain water as an alternative.
Is there anything I can do or add to the water to stop this from happening? I had some beautiful plants when I moved here 3 years ago, and now almost every one of them is dead or dying. Help!
Hardiness Zone: 8a
Tripleb from Greenville, AL
Answer:
Tripleb,
It sounds like you're getting salts and/or lime build up from calcium carbonate deposits in your water. The white ring is limescale, a white (calcium carbonate) residue left by hard water when it evaporates. This sometimes occurs naturally in areas where water is pumped from underground aquifers. Hard water isn't bad for human health, but it can definitely wreak plenty of havoc on the health of your plants, not to mention your aquarium, water heater, dish water, clothes washer, shower fixtures, coffee maker, etc. Watering plants with hard water can leave behind deposits in the soil that can actually prevent plant cells from taking up adequate amounts of water and nutrients.
An easy solution is to invest in a filtering pitcher like those made by Brita or PUR for watering your plants. At $20-$50 (depending on size and features), you'll be seriously reducing your hard water problem and purifying your drinking water without filtering out the important minerals. If you want to spend a lot more money, there are also filters designed for the end of your faucet. I use a pitcher to filter all of my water for cooking, making coffee, drinking and watering my plants. Heck, my cats and dog even get filtered water. These pitchers make it handy for filling up water bottles, too.
Ellen
Answers
By Cathy (Guest Post)
October 18, 2006
0

found this helpful
Best Answer
Get a soil testing kit ASAP and check the PH levels. If it is too alkaine, there are products you can buy make it more acidic. Alternatively, dilute some vinegar in water and pour it around the plants (keep away from the stems and leaves though), or mix in some coffee grounds into the soil.
Good luck!

January 15, 2007
0

found this helpful
Best Answer
Letting water sit for a day or a week does not get rid of minerals, it does get rid of chlorine (but not chloramines, which many cities are converting to). I do not think the original poster's problem is chlorine, I think the problem is hard water and minerals. (I have aquariums and am familiar with these things. I also breed freshwater shrimp.)
The OP could get a distiller from Sears (where I got mine) which will remove all chemicals and minerals from the water. But the distiller (I had a counter top version) uses heat at about 1500watts, and thus costs money to run. The OP could also buy bottled spring water in bulk, costing 30-50 cents per gallon.
By Laura (Guest Post)
October 18, 2006
0

found this helpful
I don't know if this will help or not. We have a water softener here as we have very hard water. We also have a reverse osmosis system because I think the wateris fairly gross. I love the R/O water. Problem is it has no nutrients for plants. So Mom makes a huge cup of tea each day and saves the last 2 inches in a jar and on Saturdays she waters all her plants with her herbal and green tea mix.
The plants are really thriving. She has been doing this for about 3 years now. So for you I would say buy a gallon of distilled water and make tea!
By Donna (Guest Post)
October 18, 2006
0

found this helpful
Try letting the water sit in an open container for a week before watering your plants. Works for us.

Carrie
Bronze Feedback Medal for All Time! 174 Feedbacks
October 18, 2006
0

found this helpful
The other thing you miss if you filter water is fluoride. If your water is fluoridated, this means your teeth enamel is not as strong as it could be. Check with your dentist for substitutes.
Water softeners in areas of hard water save your pipes. Let's see, which is more costly, pipes or teeth? Hmmm. Difficult choice. Check with your water department. The white stuff on your plants is building up in your pipes, too.
By Lynda (Guest Post)
October 18, 2006
0

found this helpful
I spray my houseplant leaves top and underneath with Sea Kelp in bottled water, and they green up overnight! I can't imagine what is in your water except perhaps some sort of mineral salts, therefore it's critical that you call your water district/water company to know what's going on, telling them your story. I'd repot whatever plant I could afford to repot/using fresh soil (with some ground charcoal in bottom of pot, if possible to sweeten the bottom water residual, and use the bottled water until they pull through the shock and stress of what they're going through. This is what I find is often the condition of plants that are being tossed curbside and is what I have ALWAYS had luck doing when I have extra money for bottled water.
I'd not worry about the nutrients right away, you can add a few used coffee grounds and left over unsweetened/uncreamed coffee if the white crust is not caused by anything acidic, I'd think. For the new soil, I got time-released Miracle Grow mix when I had no compost and a little extra money. Now I use my own compost exclusively, mixed with garden soil.
My mom used to fertilize her plants weekly, which I believe killed a few because it's too often. Each plant has it's own needs, too, so do your homework about what each one likes, needs to thrive. Some
prefer LOTS of water, others like dry med. loose soil.
Don't treat them all the same. Watch their light needs as well, and consider the dry air on their leaves, all things that stress them out, not just the water.
A rule of thumb that I have used since I have moved over 22 times from coast to coast, is to purchase plants according to the climate where I am.
Even houseplants seem to know the difference and do indeed react to being moved, some for the better (ivy), some for the worse (Ficus).
God luck with your discoveries and research.
God bless you. : )

March 24, 2007
0

found this helpful
Just boiling the water will get rid of some of the hard water minerals.
Answer

this Question