Don't use dish soap to clean cast iron pans and don't run them through the dishwasher. Fill the dirty pan with water and bring it to a boil, then you should be able to scrub off any debris. Rinse with hot water, let the pan dry and rub a small amount of shortening, lard, cooking spray or cooking oil inside the pan before storing.
Answers:
Clean Cast Iron
I put my cast iron in my self-cleaning oven. After it's finished the cycle I just wipe out the ashes of whatever is caked on and oil well.

Maintenance is the best form of cleaning. Clean and oil right away. (01/24/2005)

By
Clean Cast Iron
I haven't 'washed' my skillets in years!! After using them I rub them clean with a sprinkle of salt and some elbow grease, rinse in hot water, dry really well and give them a spray of Pam. They are better than any of the "new' non stick pans!! (01/25/2005)

By terry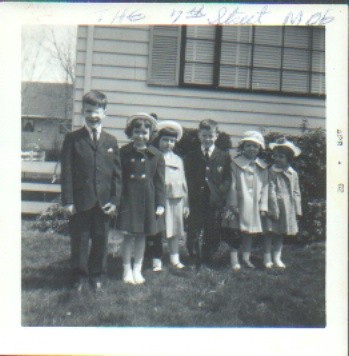 Clean Cast Iron
I NEVER USE SOAP IN MY IRON SKILLET.
JUST HOT WATER... AND DRY IN THE OVEN OR ON STOVE TOP. I RUB THE SKILLET DOWN WITH A LITTLE OIL EVERY OTHER TIME THAT I USE IT.
TUEY (01/25/2005)

By tuey
Clean Cast Iron
To remove rust from cast-iron pans and woks,rub with the cut side of half a potato DIPPED in concentrated dish detergent. Rinse, then wipe with cooking oil and paper towel. (01/26/2005)

By SFreer
Cleaning Cast Iron Pans
I have two cast iron pans and a round cast iron griddle that fits over a stove burner. I use at least one of them almost daily. Never, never would I use soap or dish detergent to clean them. I put hot water in them and sometimes add a little vinegar then simmer on the stove to loosen anything that might be really stuck on them. Then I rinse well and dry well. A light coating of oil once in a while and they are ready to go. They are the best cooking utencils I own. They sure beat all the non stick pans of today if they are properly seasoned and cared for. I've even baked one dish meals in them. (08/29/2006)

By Harriet
Cleaning Cast Iron Pans
If You buy a new cast Iron Pan Coat with either Lard (what they used it the old days) or if you're a vegetarian like me, use Crisco to coat the pan with, then put cast iron pan into oven and bake it at a low temp (about 200 deg) for a few hours. If the oven smokes, turn it down a bit. This will also help re-coat the pan if you've cleaned it with water to many times. ALWAYS DRY PAN OFF ON TOP OF STOVE then coat with oil, stack between paper towels and Bobs your uncle! If you have a pan that's rusted, simply clean with plain steal wool or use lemon juice to clean rust spots, then re-coat with Crisco and bake as above to recondition the cast iron.
---> Cast Iron... NOTHING beats it! (08/29/2006)

By Cyinda
Cleaning Cast Iron Pans
Outdoor gas barbecue grills also work well for seasoning or reseasoning cast iron pans and the smoke stays outside. i've used beef suet, lard or crisco to season mine. Heat up the cast iron skillet in the gas barbecue, shut the lid, turn it off and let it sit for a while. Reheat it if necessary.
Susan from ThriftyFun (08/29/2006)

By ThriftyFun
Cleaning Cast Iron Pans
I have been using my cast iron pans for about 10 years now. Why shouldn't you use soap? I have been washing them just like the rest of my dishes and then "seasoning" them on top of the stove with a little oil and they are just fine. (08/30/2006)

By dpcw
Cleaning Cast Iron Pans
Re: dcpw
I have washed my cast iron skillets with dishwashing detergent for over 40 years and it hasn't hurt them one bit. I'm still using the ones I started out with! I normally wash them as soon as I remove the food to a platter. If there happens to be a spot that needs a little scrubbing (which is rarely) I use a mesh plastic scrubee.... never anything abrasive. I rinse it well, dry it throughly..either with a towel or by setting it on a still hot burner or in a warm oven. After it is completely dry I coat the cooking surface lightly with a layer of lard. It doesn't take much on a paper towel when the pan is still warm. Now if you DON'T keep the surface coated after washing it you CAN get rust. You just need to always coat it after washing it.....no exceptions! (08/30/2006)

By Grandma Margie
Cleaning Cast Iron Pans
The best reason I can think of NOT to use dishwashing soap would be because of the fact that it has so many petro-chemicals/chemicals that could possibly soak into the pan and poison you and your family. I have no research or scientific backing but for me personally, I wouldn't risk it. I heard animal fats are better for conditioning (they are more stable fats with stronger bonds). I use a biodegradable, plant based, soap to clean my dishes/pans with. The stuff is (ecover brand) practically edible so it puts my mind to ease. (08/17/2008)

By gben82