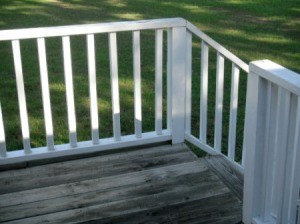 Our deck is on the north side of the house and the railings get a buildup of moss and mildew during the warm humid months. To keep them white, I have to clean them about twice a year, once during late summer and then again after it turns cold.
I take advantage of rainy days and clean the railings when they are soaking wet. Using a cleaning cloth, pan of hot water with a little Clorox and Dawn in it, the railings come clean with just a little scrubbing. With them being soaking wet to start with, it cuts the cleaning time in half.
On Christmas Eve, it was very wet outside, after having a couple days of rain and it was still raining. I wanted those railings to be white for the winter and I had not had a chance to clean them.
I checked the weather map and saw we were going to have a break in the rain so I put on my sweat coat and rubber gloves, got my rag and pan of water and waited for it to stop raining. It took me about 30 minutes to clean the railings and they looked so much better.