April 12, 2012
0

found this helpful
Best Answer
I used coffee filters and made flower arrangements for the tables at a reunion. They went over really well. This is one pic. I've done other colors too. So much fun to do and very easy. Fold and cut the filters, color them and dry them (this take a little time and then attach to sticks or straws and arrange).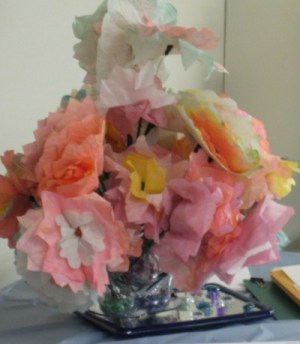 April 17, 2012
0

found this helpful
Best Answer
Cut shapes from white poster board such as a cross, flower, heart. Hole punch the top of the shape.
Color the coffee filters with markers.
Use a water bottle and gently spray the filter.
Glue to the cardboard shape and gently tear off the excess filter.
Poke the hole with a pencil and use ribbon or yarn to be able to hang a really cool piece of "tye-dye" art.
April 8, 2012
0

found this helpful
Try here, lots of really cute coffee filter crafts, many geared towards the ages of your mini-crafters:)
April 8, 2012
0

found this helpful
Thanks frugalsunnie I will definitely check out that website!
April 9, 2012
0

found this helpful
Besides crafts you can also still use them for other purposes. If they're the bowl type they're great as a hot dog in a bun or taco holder. Place one in between each of your good dishes to help protect them from scratches or to wrap individual fragile christmas decorations.
If they are the cone type you can also use them to wrap christmas decorations. They are great to hold snacks such as popcorn or chips or use as a funnel by cutting off the tip.
One more thing, whichever type filter they are, is to put a few drops of your favorite essential oil or fabric softener on them and use as dryer sheets.