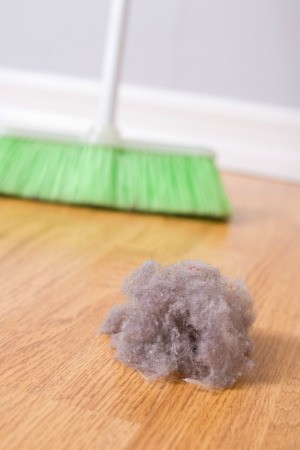 When those dust bunnies got ahead of me under my refrigerator I could never get to them back behind the grates. Well no more, I taped about one inch of a large drinking straw to the inside of the long slender attachment for my vacuum leaving the rest of the straw sticking out.
I used masking tape making sure to cover the hole while securing the straw. After taking off the cover at the front bottom of the refrigerator I can now reach them. The little buggers can no longer stay safe back behind the grates as I can reach them with the flexible straw.
By Ann Winberg from Loup City, NE
Read More

Comments

I have hardwood floors and they get dust bunnies all the time. We have 2 cats and a dog (lab). Their fur is always on the floors and stairs. Does anyone have any hints to stop the dust bunnies from appearing daily?
By Donna from Foymount, Ontario
Answers

November 10, 2009
0

found this helpful
I have the same problem. I've noticed that it's not as bad right now because the kitties are putting on their winter coats & not shedding as much. I wish I had a solution for you - other than brushing the animals frequently and running a dust mop or swiffer over the floors every couple of days, I don't think there's a good answer!
We love our animals and we love our hardwood floors, so we learn to live with it.

November 10, 2009
0

found this helpful
I hear you there Southern, love our animals too, was hoping someone may have found a cure! Swiffer help a bit. Ii even tried pledge on the dust mop! If i find a cure will send it on to you !

November 12, 2009
0

found this helpful
* Giggle * I'm in high desert country, in southwestern Idaho, and this is what our family has found to work- either get a robotic vacuum (iRobot works well, but has to be cleaned out, of hair, daily), or get a V floor sweeper. Both of those do the trick- but the iRobot is the easier of the two. Good luck! :o)

(Guest)
Gold Post Medal for All Time! 846 Posts
November 13, 2009
0

found this helpful
Sorry to tell you that there just are no shortcuts when it comes to wood floors and fur babies :-(
Okay, I know you wood floor lovers are going to roll your eyes at me ;-)
Personally, as much as I absolutely love wood floors I love my pet family more but got so tired of all the fur baby dust bunnies (that fly around and land on even the highest of furniture, ceiling fans, stove top and even stick to indoor plant leaves) :-o Matter of fact, was so sick and tired of having to do so much cleaning so often that I broke down and put in wall to wall carpeting.
No more fur floating around because the carpet catches the majority of it! Only have to vacuum carpet and favorite pet sleeping furniture and sweep the kitchen and bathroom floors once a week and dusting is now a piece of cake! One other bonus of carpeting is that it's much more quiet ;-)

August 21, 2010
0

found this helpful
If you have fur bunnies then get the attachment for your vacuum and regularly schedule your pets for a vacuum. You'll find this works better since not all dog breed need frequent bathing.
Once they get used to it, pets look forward to those vacuum times. Train by giving them a special treat as they get used to the sound of the vacuum.

March 19, 2011
0

found this helpful
If you have a large dust mop that will pickup and hold, it only takes a few minutes daily to solve the problem. When I first got my hardwood floors, everyday when I dust mopped, i was sickened to think of what we had been living with and breathing for all those years. it helped our allergies and we know we aren't just walking on the hidden ?. Yes this is a large two story house and it takes me a lot less time to mop everyday than to vacuum once a week. ;-D

March 19, 2011
0

found this helpful
I have hardwood floors and seven cats and three long haired dogs. This means that I also have dust bunnies. I usally wait till they're big enough, then I get them a collar and name them!
LOL Actually a once over with a swiffer type mop is all it takes, unless you want to invest in one of those floor robot vacumn things.

March 19, 2011
0

found this helpful
The carpet idea is the way. Being a cleaning woman of 26 yrs., I first-hand know that carpet is much easier to take care of than hardwood floors. It does keep the 'dust bunnies' from flying all over & collecting in hard to get places. 'As a rule', you are suppose to vacuum once a week per person living in your home, and add to that with the pets you own. Each home is different, but this is an actual guideline to keep your carpet, etc. in good condition.
Answer

this Question

What is a good way to clean lint balls from under your bed?

Peggy from Smithfield, UT

Editor's Note: I think Peggy is referring to dust bunnies.

Answers

Judi
Bronze Feedback Medal for All Time! 239 Feedbacks
June 24, 2008
0

found this helpful
When I had carpet I used my vac. and just laid it down flat and poked away. Now that I have hardwood I use my dust mop but I spray it first with furniture polish.
I don't use that any place else casue it's too slipery but it'll grab the fuzz better than anything.
By Roamin46 (Guest Post)
June 24, 2008
0

found this helpful
You also need to kill those dust mites. Put used tea bags into water and use to wipe down anything washable.Tannin in the tea kills the mites.

June 25, 2008
0

found this helpful
Swiffer duster.
By Carol in PA (Guest Post)
July 2, 2008
0

found this helpful
Swiffer with wet wipe is the best for under beds and everywhere.
Answer

this Question