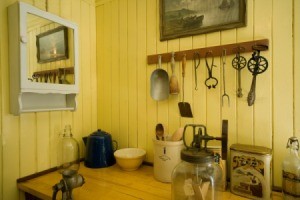 "Her Recipe"
"How very nice this cake is,"
Said a boarder to the old lady who was her hostess.
"Would you mind giving me the recipe for it?"
"Why no, I'd just as soon as not tell you how it was made.
I just take something like a quart or so of flour.
Well, take two or three scoopings up with my hands,
Then I sift it with as much cream o'tartar
as I think I'll need
and a pinch of salt.
If eggs is plenty I use several and if they're scarce
I don't use so many.
I stir in a little dab of/milk;
and mix a scooping'of sugar
with butter enough to make a kind of soft mess
And then I stir in a little mite of flavoring
I happen to have.
And then I stir it until it is good and battery
To keep it from being sad when it's baked.
And that's all there is of it.
It ain't no trick at all to make it."
By Anonymous
Source: Taken from Church Cookbook. I love these old poems and saying from cookbooks. Hope you all enjoy too!
By Mary from Cocoa, FL