Cooking With Spinach
Solutions
Share on ThriftyFunThis guide contains the following solutions. Have something to add? Please share your solution!
I have realized through my love for spinach that you can put spinach in nearly all your homemade dishes, hot or cold. It is a good source of vitamins and nutrition.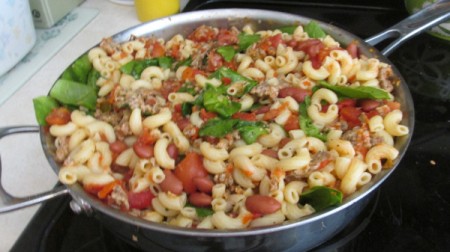 I put spinach in all my pasta dishes, rice dishes, soups, on sandwiches and salads. Endless ideas, fabulous color and flavors enhance everything thing you create. This picture is simply my American Chop Suey I made today, with the addition of spinach. A link to my recipe on ThriftyFun is below
Ooooo I've always loved St. Patrick's Day - the whole MONTH of March actually! Everything is expected to be green, but not everything is expected to be good for you ...
Spinach is among my favorite foods, but alas - my children did not inherit my predilection for this nutrient-rich leafy green vegetable.
So, I had to get creative.
There are many places I've "hidden" cooked, pureed spinach. I've successfully "snuck" it into so many favorite foods, including "green waffles", homemade pizza, homemade spaghetti sauce, "green muffins", homemade "green bread", soup, "green sticky rice", "green banana bread", "green zucchini bread", even cake!
When a recipe calls for liquid or milk, use that amount of spinach puree (add a little of the water you used to steam the spinach in if you need to).
And be sure to use your imagination -- the mischievous leprechauns surely do! ;)
By Laura from Long Beach, CA
A great little hint for making fresh spinach. When you're making fresh spinach, use a saute pan with a little butter and wilt it down instead of boiling all the flavor out. Just when it's about done, grate some fresh nutmeg onto the spinach and add salt and pepper to taste. The nutmeg cuts some of the bitterness of the spinach and it tastes great!
Source: From my mom
By Maile from Onalaska, WA
My 7 year old son is cautious about new vegetables, especially raw veggies. He likes the idea of having lettuce and tomato on sandwiches, thanks to Subway and Burger King.

This week when packing his school lunch, I replaced the lettuce with baby spinach leaves. This boosts the nutritional content and he didn't even notice. I put the spinach directly on top of the mayonnaise so it wouldn't slip out. I might try cucumber slices next!

Jess in Oregon
March 25, 2005
0

found this helpful
I was preparing a fairly plain boxed pasta side dish for last night's dinner when I remembered a small amount of leftover steamed spinach in the refrigerator. I squeezed it as dry as I could, chopped it very finely and after the pasta dish was done cooking, I added it to the dish. The heat from the prepared pasta was more than sufficient to heat the spinach and after stirring it in thoroughly, I was struck by what a visually appealing dish it had become.
A very small amount of grated cheese was used as a topper. It was delicious! The taste of the spinach did not overwhelm the pasta sauce and resulted in a more substantial side dish as well as taking care of a leftover. I will definitely be doing this one again.
By Ronsan
February 6, 2005
0

found this helpful
I keep a bag of fresh spinach on hand and add a leaf to top a cracker with a smidgin of cream cheese, crumble it in scrambled eggs, add it in my spaghetti sauce, under a slice of cheese on cheese toast, layer it under black beans and cheese on nacho chips before microwaving, and of course, use it in sandwiches. This helps me get the calcium and vitamins that spinach provides in an inexpensive way.
By Lillian T.
Related Content