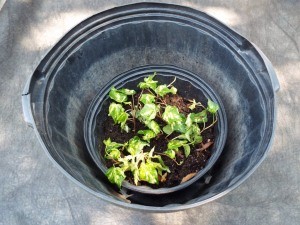 We've all heard of creating a mini greenhouse effect for rooting cuttings. This micro climate is usually created by covering the cuttings with a clear plastic dome, such as cut away inverted soda bottle, or by covering them with plastic bags supported with sticks.
This method can be very good for plants requiring a maintained high humidity level while rooting. However, the air is 'still', especially in the dome, and can promote damping off in susceptible plants. For that reason, it is a good idea to keep condensation wiped from inside the dome.
In nursery terms, most plants are said to require a 'close atmosphere' for rooting. While the air can circulate freely (which helps prevent damping off), there is not such an exchange of air that the humidity levels drop too low. This is accomplished by means of misting and the use of fans.
I've discovered another method (for small scale use) which may be commonplace, but I've never heard of it. That is to place the pot containing the cuttings into a much deeper pot. Or, simply inserting the cuttings into a deep pot which has been filled with rooting medium to only about a fourth of the depth of the pot.
The space between the medium and the top of the pot will create a close atmosphere, maintaining humidity as the moisture rises from the medium. When the pots are placed where they will receive indirect light only, and freely circulating air, as in dappled shade of a tree, the cuttings stand a good chance of developing a good root system. The medium should be kept slightly moist at all times, but never wet.
Misting, (or syringing as it is called in the trade), twice daily will hasten the development of healthy root system.
Shown here is Ivy Midas Touch with the beginnings of a good root system.