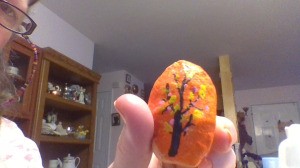 I live in Arbutus, MD. We have a group of, I don't know how many, people painting rocks and placing them everywhere, schools, stores, the library, in people's yards, or in front of mail boxes.
so i had rocks from the earth that i collected outside for another project.
i painted them with acrylic paint using paint brushes and markers and sometimes q tips.. i am not an artist i am a crafter so i had paints and brushes. my sealant is stored away for upcoming construction in my home. i just started painting. one rock i drew a tree with paint brush tip leaves. then in the leaves i used more of the magic markers. another rock has a smiley face and says happy fall. on the back of both of those i wrote arbutus rocks facebook.
i painted all the rocks first with a base color. some white some green or pink etc.
the hardest and ugliest rock to paint and heaviest turned out the best. it looks like a grafitti artist has attacked it. i like it. all i did was dotted it with magic markers. then i took the paint brush with 2 and 3 colors and just touched all over the rock. on the front it says arbutus rocks.
i will be very excited to see if any of mine make it to the facebook page.
Our rocks have been found in Germany, Florida, California, and other states. I will say I am not a very good free hand painter, but I think my rocks will encourage someone else to give it a try. All the rocks I use are collected outside. I understand many people are buying them. Why buy when they are free right outside. Although the ones I use aren't smooth it gives them character.
sometimes people take pictures of the rock they find and dont take them home. others especially kids take them. in fact that is why we are making them.
i encourage you and your town to do the same thing. it has really been a boon to our town.