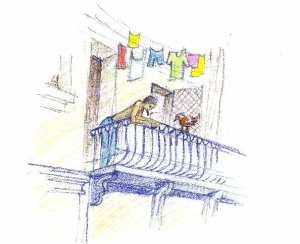 Several years ago, Barbara, an amiga from D.C., delivered some medicinas to a family in Cuba. They invited her to stay with them and to attend their little girl's birthday party. But when the father went to pick up the government allotted cake, there weren't any left; neither the pink ones for the girls, nor the blue ones for the boys. What to do? What to do?
"Well," said Barbara, "At Papi's suggestion, we went to the dollar store and bought a jar of mayonnaise and a loaf of bread. Then we went home, made mayonnaise sandwiches, and had them ready for the fiesta. The kids had a great time and didn't seem to miss the cake."
Barbara's little story is just one of many examples of how Cubans have to "make do" these days. Although they receive free healthcare, education, and basic nutrition, their salaries (less than $20 a month) are not enough to cover all their necessidades. As a result, they've learned to improvise, to make ends meet, to be resourceful and have resolve.
Many of us think nothing of throwing away old picture frames, coat hangers, and toys, but in Cuba, such items are saved and reused, possibly in different ways.
Take their transportation, for example. A taxi, often a 1950's Ford, Buick, or Chevrolet, might contain replacement parts from a Soviet vehiculo, a diesel motor from an Italian pickup truck, and a Flintstones vitamin bottle filled with brake fluid, all held together with bits of wire and string.
Other public conveyances include hand-me-down buses from other countries and camellos which are hybrids, combinations of truck- bus-bus in the shape of camels. Sharing the streets with the taxis and buses, are rikimbilis (rick-in-billies), bicycles with small gas powered motors attached. And finally, a lone bike labors by with an entire family on the back and a horn made from a little plastic bear, a child's squeeze toy, on the handlebars.
Another instance of los cubanos thinking beyond the normal capability of an object? A bouquet of brilliant red hibiscus serves as a warning flag on a truckful of lumber that juts out over the pavement.
Streetside, los vendedores have their own "can do" attitudes. They've cut down Havana rum bottles to become drinking glasses; topped off soda cans to hold flan; and folded pages of discarded books into paper cones that hold peanuts. Tailors often use fabrics from old blankets to make jackets. And new keys emerge from old ones.
Here and there among the buildings, but behind locked iron gates, one can see little jardines fertilized with the morning's coffee grounds. Beaten-up, jerry-rigged skateboards (maybe even a surfboard made from recycled refrigerator foam) rest against the walls.
Then look up at Havana's balconies and see hand laundered wash alongside handmade antennae; and hear the clucking of a chicken or two (illegally "Invented" food); all signs that someone lives there.
Inside one house, an abuelita sits by the window. Her hair's done up in curlers made from the cardboard centers of toilet paper rolls, and she's sipping a pale liquid squeezed from previously used teabags. We watch as she painstakingly pulls threads from a fine old tablecloth and wraps them around her little finger; she'll need the threads later on this afternoon when she stitches up a pair of cotton undies for her granddaughter. Beside her on the floor, rattling away, is an electric fan put together by her son from an old rotary dial telefono.
Perhaps we should leave them in peace now, these hard working people, but before we do, let's honor them for their courage and resilience, their ingenuity and generosity.
My boyfriend drew the picture.
By Viaux from Miami, Florida
Read More

Comments