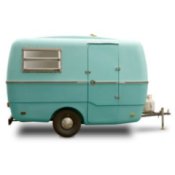 My husband and I have bought 3 used campers and 1 used motorhome, so we have some small experience in what to look for and questions to ask before you sink money into a used camper.
First, open and close all doors and windows. We got a motorhome that has the hardest windows to open you ever will encounter! Did not check them first! Also, one window had been replaced with plexiglas, which streaked up and cracked with use.
Second, ask for the power and water to be hooked up if possible, so you can tell if all appliances work properly, no leaks are going on that need repair.
Third, take a walk around the camper checking for signs of its being in a wreck or other accident that would cause it to leak from the outside, in. The roof is also another spot to check. Extra caulking around vents, A/C, etc, could mean it leaked there or still does.
Make sure all tables, sofas, things that make into beds, actually do make beds, and they have mattresses to go with them that fit. We got a bunk bed type camper that had no mattresses on the top bunks once. Had to buy real mattresses. The beds had made into storage cabinets, and they did not get the mattresses because they used the storage cabinets instead. Also, if you have beds up above, make sure there is a ladder so you can get into them. We did that once too, so saved our ladder from the last camper to use in the 'newer' one.
By Jacketbacker from Greer, SC