DIY Cowboy/Cowgirl Wreath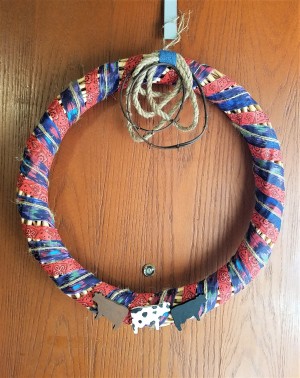 This was a labor of love, but I love how it turned out. I did it in honor of spring calving season. I created faux barbed wire just for this, and hope it might inspire some of you to make something with a western/ranch theme.
Hope you like it!
Total Time: 2.5 hours
Yield: 1
Supplies:
1 14" rattan wreath form
2 ft rope
3 yd twine
3 yd western shirt fabric
3 yd bandana fabric
3 wooden cow shapes
1 oz each of black, white, brown, and red paint
3 paint brushes
1 old extension cord
16 twist ties
glue gun
scissors
wire cutters
3 in scrap of denim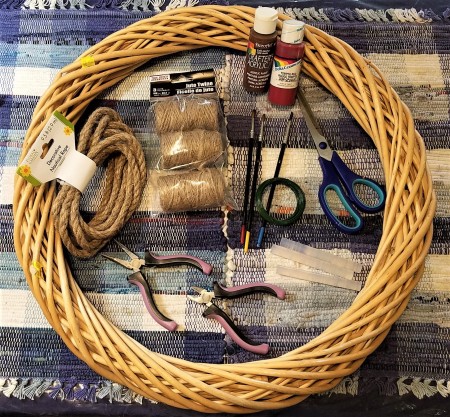 Steps:
I made some mistakes on this, as it was my first. But I will correct you along the way.
If I ever make this again, it will be one size smaller. But for this, I only had two sizes of forms, and the other was too small.
So plan out your stuff. The first thing I did was paint the cows, knowing they would take the most time to dry. I didn't have the right shade of brown, so I made some from brown and red, wanting a 'rustier' color. This required some trial and error, but I mixed it pretty close. One cow was rusty, one was black, and the other was white and black.

In painting the cord and the ties, I realized that both would rub off on my fingers, when trying to twist the ties on, and wrapping in a circle for the wreath. So, you should twist tie them on really tight (mine were loose and slipped), then paint. It's hard to see on this shot, but you can see the painted green ties. Not so hard to work with once you cut them, but much harder to work with once you paint them. So learn from my mistake.

Once that was all done and drying, I ripped the shirt fabric, the bandana fabric, and cut the twine. With some hot glue, I began wrapping it around the form. I wanted the shirt material to show, so I didn't cover it with the red, just the twine. The bandana went on next, then the twine.

When I said it's 3 yards each, make sure you measure for yourself first. Mine is an estimate I made after it was done, and it's harder that way. Again, learn from my mistakes.

It was time for the rope circle, bound with a small scrap of denim. I hot glued them on with the faux barbed wire. Then I glued the cows on. Again, I wish I had done the brown cow in the same direction, but it had a sticker on the back and I didn't feel like doing the glue removal. I also wish I had put them a bit further apart. But, live and learn. So there you have it. N-JOY!!
Categories
Pages
More
Categories
Published by ThriftyFun.
© 1997-2022 by Cumuli, Inc. All Rights Reserved.
https://www.thriftyfun.com/DIY-CowboyCowgirl-Wreath.html