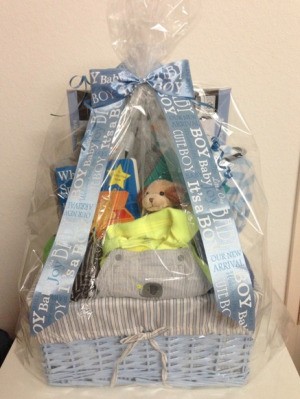 Pre-made newborn baby gift baskets can be very expensive and too generic! You could make your own and be creative plus it will be a much more thoughtful gift. Not to mention, it is a lot more affordable to do it yourself. I made this baby boy gift basket for my nephew. When my sister announced that she was expecting a baby boy, I started purchasing gifts over the span of a few months.
Breakdown of what is inside the basket:
It all depends on your budget. I filled the basket at the bottom with clothes (you cannot tell, but there's a lot of clothes in the spacious basket) along with books, scrapbook gift for mom to be, stuffed animal, and toys.
For the basket and ribbon - I was able to use a 50% off coupon at Michael's to help cut the cost down!
For the clear plastic to wrap the entire basket - I found that at my Dollar Tree.