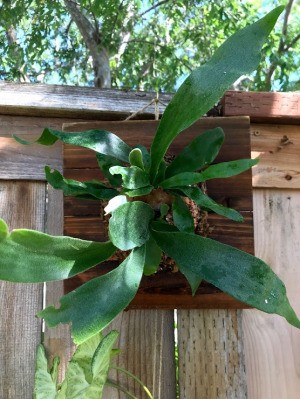 Staghorn ferns are a beautiful air purifying plant and with this DIY mount, it doubles as a nice piece of wall decor art. This is an easy to make mount that looks expensive, but can be made for fractions less than buying one online/retail stores.
Tip: Square wood pallet plaque purchased from Michael's reg. $4 (good deal already), but there are always 50% or 60% off coupons to score additional savings! I waited until I could get it for 60% off, so it was only $1.60!
I bought the staghorn plant at a local nursery for only $4.20 with a coupon.
Since I had some supplies already at home, this project cost me less than $6 to make compared to $40-50.