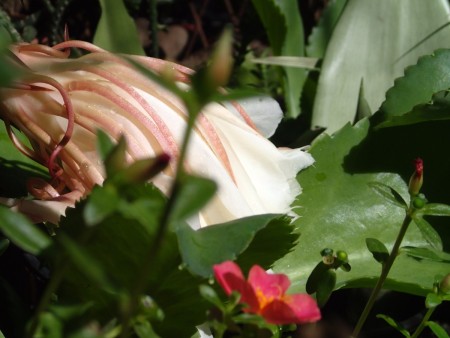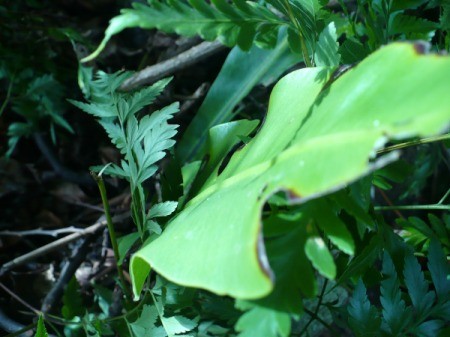 Photo Description
Several years ago a group of friends and I went on a nature walk up the river bed that runs in front of my home. We followed the river to the base of the mountain. There we discovered different varieties of ferns and other tropical plants growing wild.
We decided to take a few of the plants home and plant them in our gardens. I chose a fern plant from the Elaphoglossum family and planted it in a large pot in my garden. The fern has been growing for several years. However, in January the plant seemingly started to produce flowers. I had no idea that this fern plant had flowers.
I later found out that the plant only blooms once a year. The flowers open at night and only last for 2 to 3 days. In the early morning hours the flower closes. I took this picture early one morning when the flower was starting to close. In the 7 years that the fern has been growing in my yard, I have only seen 4 flowers.
When I first saw the flower it was amazing. The petals are delicate and will wilt if touched. I feel so lucky to have gotten a picture of this flower. I think it is an amazing flower and I've never seen one like it before.
Although I originally thought that the fern itself was actually blooming, I have done further research and now know that, in fact, the flower is actually that of a an epiphytic cactus (Epiphyllum genus, I believe), commonly known as Queen of the Night. These cacti are frequently found growing in trees, which are used as support, tucking their roots into pockets of decaying vegetable matter. They are also sometimes found growing in rocky ground, their roots reaching into the rocky crevices. In the tropics they enjoy the warmth, high humidity, and the shade that protects them from the full sun. This habitat is also home to orchids, bromeliads, ferns, and mosses.
The ones here in Tahiti have long thin stems that can grow up out of the ferns, hence my confusion. These stems can reach 4 feet long and may support 2 or 3 flowers.
Photo Location
Paea, French Polynesia Tahiti