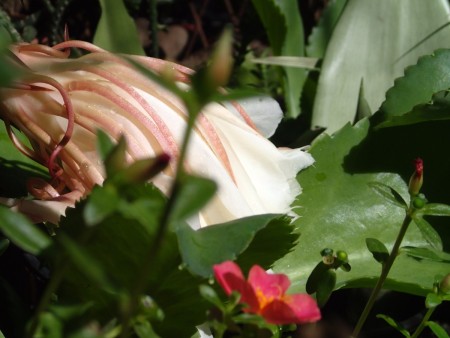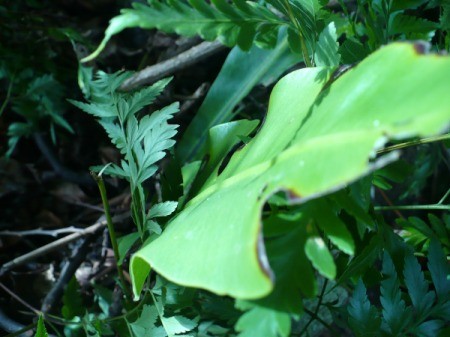 Photo Description
Several years ago a group of friends and I went on a nature walk up the river bed that runs in front of my home. We followed the river to the base of the mountain. There we discovered different varieties of ferns and other tropical plants growing wild.
We decided to take a few of the plants home and plant them in our gardens. I chose a fern plant from the Elaphoglossum family and planted it in a large pot in my garden. The fern has been growing for several years. However, in January the plant seemingly started to produce flowers. I had no idea that this fern plant had flowers.
I later found out that the plant only blooms once a year. The flowers open at night and only last for 2 to 3 days. In the early morning hours the flower closes. I took this picture early one morning when the flower was starting to close. In the 7 years that the fern has been growing in my yard, I have only seen 4 flowers.
When I first saw the flower it was amazing. The petals are delicate and will wilt if touched. I feel so lucky to have gotten a picture of this flower. I think it is an amazing flower and I've never seen one like it before.
Although I originally thought that the fern itself was actually blooming, I have done further research and now know that, in fact, the flower is actually that of a an epiphytic cactus (Epiphyllum genus, I believe), commonly known as Queen of the Night. These cacti are frequently found growing in trees, which are used as support, tucking their roots into pockets of decaying vegetable matter. They are also sometimes found growing in rocky ground, their roots reaching into the rocky crevices. In the tropics they enjoy the warmth, high humidity, and the shade that protects them from the full sun. This habitat is also home to orchids, bromeliads, ferns, and mosses.
The ones here in Tahiti have long thin stems that can grow up out of the ferns, hence my confusion. These stems can reach 4 feet long and may support 2 or 3 flowers.
Photo Location
Paea, French Polynesia Tahiti
Add your voice! Click below to comment. ThriftyFun is powered by your wisdom!
May 19, 2016
0

found this helpful
You are most fortunate to be surrounded with such exotic flora. Your island must be no less than a virtual paradise. I appreciate all the nature photos you post. Hope to see more.
May 20, 2016
0

found this helpful
Thank you so much. There is so much to see and take pictures of here on the islands. I have a giant gallery of images I will share with everyone here on the site.
May 23, 2016
0

found this helpful
Hello !
If you want your epiphyllum oxypetalum to really thrive as it should in the climate of Tahiti you must forget you found it next to a fern.
Unlike ferns the epiphyllum oxypetalum needs full light not direct sunlight if you want the leaves to keep their deep green color but as much light as you can offer it.
You can see that the epiphyllum oxypetalum is not getting enough light when it produces these very long cylindrical shoots you describe.
These shoots are in fact trying to climb up to get more light. When it is receiving enough light the epiphyllum oxypetalum produces a majority, if not only, broad thick flat
leaves with big nerves. It is on these flat leaves that the flower buds appear and on them only.
The epiphyllum oxypetalum should not be put in a large pot as it likes to be tight in its pot and parts of the plant will die if the roots meets hollow parts in the soil.
It is the warmth that will start the plant blooming but it needs a difference of temperature between day and night. The flowers opens and dies in one night.
What you found in the morning is not a closed flower it is a dead flower. It is a very short time to admire the flower but during this short time and because
it is very short the flower produces the most powerful scent to attract its pollinator a sphynx moth. It is the quantity of scent produced that can really fill a room
and its ressemblance to the Ylang-Ylang scent that makes the plant so remarkable.
The plant you describe as growing in Tahiti "with stems that can reach 4 feet long and may support 2 or 3 flowers" are not Epiphyllum oxypetalum,
there are many others nightblooming plants with flowers that will look like the ones of Epiphyllum oxypetalum like the Selenicereus grandiflorus for example
but the difference is that the flowers of the Epiphyllum oxypetalum appears only on the large broad leaves not on long stems or shoots.
You can find more information about the plant and its needs here : www.sftgs.org.my/.../epiphyllum.html
Hope this helps !
Add your voice! Click below to comment. ThriftyFun is powered by your wisdom!