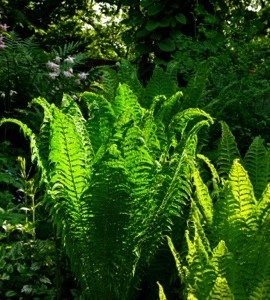 Ferns are commonly found in the wild and are well adapted to woodland environments in most parts of the country. Many of the ferns you see for sale commercially in your area are the same species you find living in the wild. Growing ferns from spores is a challenge and not for the gardener who is faint of heart. For those seeking to cultivate some patience, however, it may be one of gardening's greatest rewards.
Ferns Gone Wild
Before you collect any spores, it's important to look at the wild ferns growing in your area. Their particular habitats and behaviors are good indicators of what they need in order to be successful in your garden. If a particular type of fern seems to be growing out of control in the wild, there is a good chance it will grow just as crazy once it is planted in your garden. The same is true for ferns that grow only on rocks or near running water. You'll need to mimic those conditions in your garden if you want to achieve success.
Conservation and Etiquette
As common as some species of ferns are in the wild, others are very rare and even endangered. You should never remove whole plants from the wild, and you should never remove fronds from ferns that are rare or endangered. The exception to this is if you are saving the ferns from being destroyed (e.g. construction or development) and you have the property owner's permission.
Identifying the Spores
Fern spores are located on the underside of the fern's fronds. The spores themselves are actually inside the sporangia, which look like raised spots or lines and are usually green. When the spores are "ripe" and ready to be collected, the sporangia become firm and turn black, brown, or yellow in color. If the sporangia look slightly fuzzy and pale they have already released the spores. The time of year this happens depends on where you live and the type of fern you're collecting spores from, usually late summer in temperate climates, and almost anytime of the year in tropical regions.
Collecting the Spores
To collect the spores, remove the frond and place it safely between two sheets of paper. Once home, lay the paper (frond still inside) in a warm, dry place that is free from drafts. After 1-2 weeks, remove the top layer of paper to reveal the dried leaves and spores. The spores are the tiny little dust-like particles still attached to the paper after the leaves are brushed away. If you fold the paper in half and tap it slightly, you can concentrate the spores into the center of the paper for easier transfer onto the growing media.
Growing the Spores
To grow the spores, sprinkle them on top of a small jar or clear plastic containers filled with moist STERILIZED potting soil. Use a high quality mix similar to the humus-rich soil found in the fern's natural habitat. Cover the container tightly with a clear cover and place it in a bright room, but out of direct sunlight. Temperatures should be between 60 and 80 degrees F. Once the container is covered it will not have to be watered again until the baby ferns emerge.
Because the growing container will remain covered for a number of weeks, it's very important that everything from the growing medium to the growing container is sterilized and disinfected before use. The potting soil can be sterilized in a microwave oven for 4 minutes on high. (Let it cool before sowing seeds.) Growing containers should be disinfected in solution containing 10% bleach/90% water, then rinsed several times with previously boiled water.
Cultivating Patience
The hardest part of growing ferns yourself is waiting for something to happen after the spores have been sown. It may take 6-12 weeks (6 months for some species) before you see any signs of life. And that's only the first part of the process. If your spores are successful, first to appear will be the tiny, leaf-like plants (prothallia) that measure about 3/8 inches across.
These need to be thinned so only 1-2 are growing in each 3 inch area. If not thinned they will develop only male organs (instead of male and female organs) and all of your hard work (and patience) will end in frustration.
Ferns need water to be fertilized (the sperm must swim to the egg), so mist them regularly with distilled water. This will also prevent the potting soil from drying out. If fertilization is successful, the first tiny fronds will emerge in another 6-8 weeks. Thin them to 3 inches apart.
Transplanting Young Ferns
If your ferns have made it this far (to tiny fronds, 1/4 inch high) they can be transplanted (still indoors) into individual peat pots. These pots should be placed in a plastic flat and covered to create a mini-greenhouse effect. Ferns take a LONG time to adjust to the drier air of outdoors. In the spring, gradually start removing their cover for short periods of time until they are hardened off completely to the change in humidity. After they are hardened off, transplant them in a mostly shady spot (dappled sunlight is best) and watch them carefully for the first year.
Comments
Read More Comments