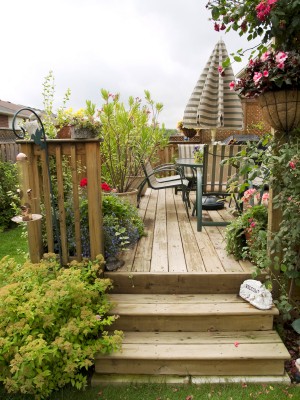 Decks are a valuable addition to your home. With a little planning, they can also be a valuable addition to your garden. Deckscaping is the practice of incorporating plants into your deck's design. It can help you create a relaxing outdoor space in which your deck blends in seamlessly with the rest of your existing landscape.
The Fundamentals
Address the view: No matter what kind of deck you have, your chief concern is always going to be the view - either preserving it or obscuring it. Take a look at the views from on the deck and toward the deck. Decide where the primary focal point is (good or bad) and plan your deckscaping in such a way that it either enhances or hides the view.
If you don't have a good view from your deck, put a focal point ON your deck. Use plants, a sculpture, or a small water feature to divert attention away from unattractive views. For example, morning glory, clematis, or jasmine twined gracefully along the railings will still allow access to the breeze, yet help obscure the view.
Camouflage the perimeter. A deck without landscaping around its edges can look like it has been haphazardly stuck to the side of your house. Adding plants around the perimeter softens hard edges and helps it blend more seamlessly into the environment. For example, tall plants or trees surrounding a low deck can add shade and create a sense of privacy.
When choosing plants, consider flower color and fall color. If the plant is fragrant, try to place it on the upwind side of the deck. Always keep your yard's micro-climate in mind and pick species that will adapt to those conditions.
Break up the monotony. Most decks feature a large, flat expanse of uninterrupted color. Visually, this can be quite boring. Adding plants is a great way to break up the monotony. This is easy to do by creating a collection of containers filled with colorful plants. Not only will they break up the space, but they will also help tie the structure of the deck into the existing landscape.
To create a unified transition from the deck to your garden, include similar elements like plant species, colors and textures in both spaces. Container grown plants can also be used to define different areas of your deck, for example dressing up seating areas or highlighting entryways.
Maximize available space. Decks take up space that might otherwise be used for gardening. One way of maximizing your growing space is to grow flowers, vegetables, and herbs in containers placed on the deck - especially in unused corners. Container plants can perform double duty by livening up the space and bringing the landscape closer to the house.
You can also attach hanging baskets and planter boxes to the railings, and make use of the walls of the house to train climbing vines. When planning these features, make sure to set them out of the way of traffic.
Tips for Two-Story Decks
Soften posts. Plants growing around tall posts have a softening effect by anchoring them to the ground. Trellises hosting climbers like clematis and honeysuckle, will bring a tall deck visually closer to the ground.
Create tiers. To minimize the lofty space between two story decks and the ground, create a three-tiered effect using plants of different heights. Use dwarf trees or ornamental shrubs to create the tallest tier, and scale plants down accordingly for the middle and bottom tiers.
Create storage. Don't forget the area beneath your deck. Even if there's only room for a crawl space, you can still use the area for storing tools like hoses and garden carts. Lay down a section of landscape fabric and cover it with stones to eliminate weeds. Then skirt the deck with a panel of lattice (don't forget to leave an access panel) and decorate it with ornaments or use it to grow annual climbing vines.
Read More Comments