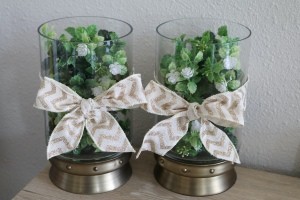 I enjoy changing up my home decor from time to time, however, at the same time, I don't want to spend a lot of money purchasing new pieces either.
I love clear hurricane glass vases because they are so universal and you can change them up very inexpensively to match your theme or season. What's great is these hurricane glass vases work perfectly as centerpieces for your home during holidays, for parties, or as an inexpensive engagement party or wedding centerpiece too!
The next expensive part is finding vase fillers. Finding what to use to fill your vase is the expensive part! Here's my trick as a vase filler. Find flowers at your local craft store (on sale) or any old flowers you may have and use that instead.
My entire project cost less than $8 to make.
- hurricane glass vases were $2.49 each (90% at Target during Christmas sale)
- fake flowers from Michael's at 90% off during spring
- ribbon also from Michael's at 90% off during Christmas
Where can you buy hurricane glass vases? Many places sell hurricane glass vases. Prices vary depending on size, style, and store. You could be able to find them as low as $1-3+. (Also could try thrift stores)
Target: As low as $2.99 https://www.target.com/p/6-34-x-4-6-34-decorative-hurricane-glass-vase-clear-threshold
Ikea: $4.99 - https://www.ikea.com/us/en/p/pomp-vase-candle-holder-clear-glass Hobby Lobby: As low as $4: https://www.hobbylobby.com/Floral-Wedding/Containers-Fillers/Containers/Glass-Hurricane-Vase/p/22211 or a more fancy version, $12 https://www.hobbylobby.com/Home-Decor-Frames/Candles-Fragrance/Candle-Holders/Hurricane-Glass-Candle-Holder-With-Brown-Base---Small/p/80932248