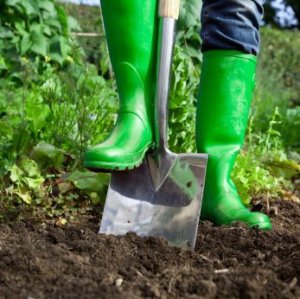 Digging garden soil can either be a pain in your back, or an enjoyable way to spend an afternoon outdoors. Here are some helpful tips to make this necessary garden chore easier, safer, and more enjoyable.
The Basics of Digging by Hand
For most gardeners, hand-digging is the main method of cultivating the soil. It's the best way to break up compact clumps and introduce air into the soil while reducing erosion and minimizing the disturbance of microorganisms. Digging by hand also enables you to work organic matter into the lower levels, increasing the depth of the topsoil.
Use the Right Tool for the Job
Spading Tools:

For loose or light soils, removing sod, or creating straight edges in the soil, use a flat spade.

Spades are also great for digging planting holes and trenches, prying out roots and rocks, and dividing perennials. For heavy soil or compacted soils, use a spading fork (like a pitch fork, but with flat tines).

Shovels and Garden Forks:

Use shovels for mixing cement, handling compost and manure, and moving sand, gravel and soil.

Use a regular garden fork for turning compost and piling up discarded plant materials.
The Best Time to Dig
A good time to dig a new bed is during a dry fall day when the soil is neither too dry and hard nor too wet and sticky. (Never dig when the soil is wet enough to stick to your boots or you risk compacting its structure.) If digging in heavy soils, simply leave the rough clumps overturned and unbroken until the following spring, so they can be broken down and softened by Mother Nature over winter.
Digging to Improve Drainage
There is a lot you can do to improve poor drainage by digging and incorporating organic matter into your existing soil. If the problem is mainly due to heavy soil, dig deeply and amend the soil with 2 buckets of gravel and 2 buckets of organic matter per square yard (adjust this ratio as necessary). Another option is to skip the digging altogether in favor of constructing raised beds over the area you want to plant.
Digging in Light Soils
Light, sandy soils crumble to a fine tilth while digging. Because they drain easily, nutrients tend to leech out quickly. To help minimize this, keep bare soil covered throughout the winter by sowing a cover crop like alfalfa in fall and digging it in (turning it under) a few weeks before planting.
Stay Safe and Protect Your Back
Gardeners sometimes make risky assumptions when it comes to deciding whether or not to get their underground utility lines marked for digging. Even with small projects like planting trees and shrubs, there is still a risk of injury or disrupting service to the rest of the neighborhood. Before you dig, "know what's below." Call 811 to connect to your state's local call center and get your utility lines marked for free.
Use a shovel or spade that is the correct size for you. Using one that is too big or too small will only slow you down and tire you out more quickly.
Push the blade of the shovel or spade vertically into the soil with your foot (don't jump onto the tool to force it into the ground) so the angle from the blade to the handle remains upright. Then pull the handle back, close to your body. This will loosen up the soil and make it easier to lift.
Never shovel a load of dirt too heavy to handle comfortably. Instead, focus on moving smaller, lighter amounts of soil each time. This will reduce the likelihood of strain and allow you to work for longer periods of time.
Move your feet and turn your entire body toward the spot where you will be depositing the soil. Don't twist from your hips or you may strain your back.
Take your time. Stop frequently to rest-especially if it starts to feel difficult to straighten up your back. Plan to complete your project in stages and allow yourself plenty of time to complete it.