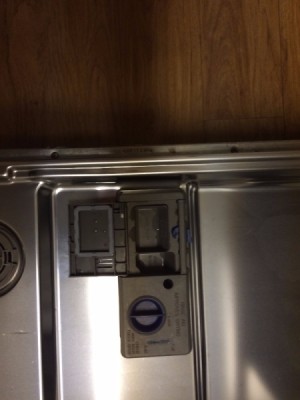 In the last couple of weeks, I noticed my dishwasher pods were either not dissolving at all, or only dissolving partially. I Googled this, and there were two common reasons: there isn't enough water coming into the dishwasher, or the water isn't hot enough. The article suggested putting a cup right side up on the top rack. At the end of the cycle, it should be full. If not, there is not enough water going into the dishwasher. My cup was full, so that wasn't the problem.
They also suggested to run the kitchen sink water until it is as hot as you can get it, and then run the dishwasher.
I realized that a couple of weeks ago, my husband started working late. Before that, we ate together, washed the pots, and then ran the dishwasher. Now I clean the pots first, make a plate for him, and then run the dishwasher. My dishwasher issues started when he changed his working hours. I figured that the water hadn't been used for awhile and probably wasn't hot enough, so I did as the article suggested. As you can see from the picture, the pods are now dissolving completely. Hope this helps someone else.