What if my dog is afraid of her crate? I crate trained both my puppies, the little one loves it and has no problem with it. Unfortunately, the big Pit/Lab I have who is almost 2 years old now hates it. We had to use it when she was a baby because she destroyed many of my belongings including a part of my couch. She freaked out for the first week then seemed fine. She would never eat a treat in it though no matter how good it was. We even had her to the point that if we left the house she would automatically go in.
About a month and a half ago she banged her back paw on the ledge of her wire kennel and jammed it in the crate door as well. Now no matter how much I coax her, give her favorite things, even put her favorite blanky in there that she drags all over the house. No way can I get her to stay in there.
If I lock the door even with her kong stuffed with goodies in there she just sits there and shakes and pants like crazy. I even tried sitting with her and patting her with the door open and she was still terrified. She use to sleep in it on her own accord at night now she would sooner sleep on the bare floor.
I don't want to keep it if I can never get her in it but, when we travel she is very anxious and chews other peoples stuff. She is frightened very easily, we are not sure why, we got her when she was 4 months old. I was even thinking of trading it for plastic if I thought that would help but, again not to sure what to do. Any ideas? I feel bad for her and thankfully I don't need it at home anymore as she is comfortable here now.
The pic is from before she hurt herself.
Histears from NB.Canada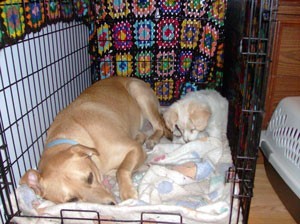 Answers:
Dog Afraid of Crate
She's adorable and I feel so badly for her. I would just give it up in the house. If she's happy without it, who cares? As far as the car, you can give her Rescue Remedy. It's a holistic, natural calmer. Many people use it for dogs who are afraid of thunderstorms, fireworks etc. I've never had to use it so I don't know the amounts to give but I know it's a very small bit as in most holistic formulas. You could find someone on-line who sells it and ask them. Or if you have a holistic vet near you, they would know & probably sell it. (07/30/2008)

By Me
Dog Afraid of Crate
She is afraid to have that happen to her again. I would try for a bigger crate. Also, never ever punish a dog by putting it in the crate. They consider this their safe haven. I work for an animal rescue and have for the past 5 yrs. I have 5 dogs. One of my dogs hated the crate. She would foam at the mouth, so we don't confine her. Once my dogs got older, the crate was just left open and used for a bed. Good Luck. (07/30/2008)
By Cosy
Dog Afraid of Crate
It sounds as if maybe you're not letting go of the thought that she might get hurt again. You have to let this go. Check your energy when you're around the crate or when you're trying to get her used to the crate again. Also, when you tried comforting her while she was in a fearful state, all you did was reward this type of behavior and confirm that there actually is something to be afraid of. Just act matter of fact, and let go of any painful memories you have regarding her injury. Dogs live in the moment. They do not dwell on things that happened in the past. But humans certainly do. Also, do not "feel bad" for her. You cannot help someone by feeling sorry for them. You have to be confident and calm assertive. (08/24/2008)
By Nichole
Dog Afraid of Crate
If you are potty training and she isn't soiling her crate, keep using the crate at night. You are the human, she is the dog. If she is completely potty trained and through the chewing stages, you can keep her in a room instead of the crate. The earlier you give her the freedom, the longer you'll regret what she can't help, which is soiling your carpets and chewing your furniture. That is the safest place for her. Maybe take the blankets off because she might like to see out. (08/28/2008)

By ss