This is a cover for my dog's cage. I made to help keep him warm and also for privacy. It has a flap in the front you can tie up or let it down to have the cover closed yet allow him access to go in and out.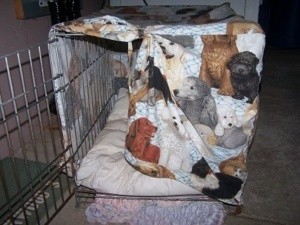 Approximate Time: 45 minutes
Supplies:
fabric-amount depends on size of cage
sewing machine
scissors
thread
tape measure
Instructions:
First measure each side of the cage and cut pieces big enough for all areas (top, front and sides, but not bottom) to be covered. Allow an extra 1 inch for seam allowance.
Sew the four sides around the top piece. Keep fitting it over the cage to be sure they are the correct size.
Do not sew the front flap. This will be used as a door so the dog can walk through and go in or out as he pleases. Or you can attach a tie to the top of the cover and tie it up if you wish to have it open.
Hem the bottom of the cover.
Put a hem in the 2 pieces that make up the flap.
Cut some strips of fabric about 4 inches long and 1 inch wide to use as ties to hold it to the cage.
Sew 2 ties in each corner. Wrap around the bars of the cage and tie to prevent the cover from moving around. These will hold it securely.
Let Rover inspect it and enjoy!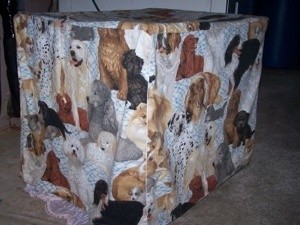 By Donna from Millbury, OH
Read More

Comments
Our dog's crate takes up a lot of room in the living room. Any ideas for hiding it or making it useful?

Thanks in advance!

Karla from CT

Answers

January 10, 2006
0

found this helpful
We've begun to use ours as a makeshift end table. It works well for holding the lamp and a small box with the mittens and hats for the family. It's a little unsteady, so we have to be careful. I'm thinking of stablizing it with a piece of plywood cut to size and skillfully disguised. Good luck!

January 10, 2006
1

found this helpful
How about buying or making one of those foldable screens? I've seen some that have photo frames on them and I know some are ornamental. This would block the view and add decoration to the room.
By debbie (Guest Post)
January 10, 2006
0

found this helpful
ours used to sit in the kitchen which was the only dining space in the rental house we lived in. kind of gross. during holidays or entertaining we put a sheet of plywood (cut to fit) on top of 2 xlg crates and covered the crates with simple white table clothes and created a buffet.
dogs are den animals and feel safer when they sleep in cave-like areas

January 11, 2006
0

found this helpful
We use ours as a corner table between the couch and chair. I put a burgandy throw over it and then a pretty white table topper. My dog loves it and people are surprised that it is her kennel.
Love & Prayers,
Linda

January 27, 2006
1

found this helpful
Wow, what wonderful ideas. I just got a puppy, yes at 54 years old, I guess I need another 'baby'. Her crate is right now in my bedroom so she is not alone at night. I would like to put it in the family room in the spring when it's warmer out. I also don't like to look at it though. The ready made must be pretty costly though. I think I'll try cutting down some plywood and using nice moulding for trim and giving a coat of paint. She is a tiny dog, a pug apoo we think. Maybe a pug + brussles griffon. Not sure but darn cute and at $250 rescue fee quite a bargin.
For the love she gives back. A private rescue sight , if anyone wants a pup or kitty email me at
vallford@aol.com
and I will give you the information on the wonderful woman I got her from. She opens her home to these needy dogs. They even sleep in her bed with her and her hubby. Some she fosters out when needed. If anyone can match someone with a dog she can. My Molly is a handfull at 5 months of age but a delight. She came from terrible conditions ( someone that calls herself a rescue person). That's another whole story. Valery

January 27, 2006
0

found this helpful
Has anyone here tried the litter box for a puppy? The pads are ok but if puddled and she steps on it her feet get wet. It's so cold out and she's so tiny it's hard to get her outside to go potty. Also I live in a split level house and she can't go down the stairs as yet.
She can't get to the door to let me know she has to go. At night if she's in her crate she'll wine so I know she can hold it for a little while. Any house trianing tips would be appreciated.
Vallford@aol.com
By Karla (Guest Post)
February 9, 2006
0

found this helpful
I got the great, FREE directions from http://www.sewing.circleofcrafters...
You can hardly tell that this cozy coat used to be a picnic blanket. It is quilted for warmth and has been treated with waterproofing spray for those early morning hurricane walks. Naturally, it is reversible: One side revealing a traditional tartan, the other a bold blue vinyl with an urban edge. Practicality has not been lost to fashion, as this blanket coat has a pocket on each side, appliqued with a charming heart. The design also puts safety first with a reflective strip on the back of the coat.
All made with things I had at home!
Read More

Answers