How can I stop my female staffordshire bull terrier from eating her own and other animals feces?
Debbie from UK
Answers:
Dog Eating Feces
Try looking at the dog's feeding programme. I used to foster dogs that were ill and one or two who were poorly used to do this. Maybe ask your local RSPCA for some advice. Hunger seems to be the problem in most cases. Have you had the dog since it was a pup? Maybe it was ill treated before and was not fed properly? Hope this helps. (03/07/2006)
By Soph
Dog Eating Feces
I had the same problem with my white german shephard for many years( I lost her when she was 12just 1 1/2 yr. ago.) I talked with the vet and she said to change dogfood. All the nutrition was running right through her. So I bought a brand that had chicken at Sam's Club. She stopped almost immediately. The other food was not filling her up and staying with her . (03/07/2006)

By Megan's mom
Dog Eating Feces
I assume you've had her checked out by a vet? My dog, a pomeranian, also eats poop, although in her case it seems to be that she has food allergies and the poop contains things that she's not allowed to have (like beef.) Otherwise, she's quite healthy.

I asked a vet friend about it and she said that eating poop was "a vice". As long as your dog is healthy and doesn't have food allergies, my suggestion is to limit his supply, i.e. pick up his poop and watch him like a hawk on walks. (03/07/2006)
By kathykl
Dog Eating Feces
One dog that I rescued also ate feces but when I heard about adding shredded (she has no teeth) zucchini/squash to her food she stop. There is something in that vegetable that makes the feces inedible. :-) (03/08/2006)

By Toni
Dog Eating Feces
Eating poop is quite common. The myth that they're not getting quality food is just that. They really don't know why dogs do it. I feed mine, not only a quality natural food but real meat & veggies, & they still do it. Each rescue I bring into the pack is taught by the others to do it. It's disgusting & I try to limit it but they still do it. I've tried pumpkin in their food & other methods but I've given up. I just keep my eye on them when they're outside. (03/08/2006)
By Vic
Dog Eating Feces
I tried a little pineapple juice in my dogs dry food (or wet) and it worked. Something to do with the enzymes. It takes a while but they learn not to eat the poop. She loved the flavor and would attack her food. Good for finicky eaters too. (03/08/2006)

By FLABULOUS
Dog Eating Feces
My boxer also did this when she was young. My vet sold me a powder to sprinkle on her food I think it made the poop taste bad. sorry I don't recall the name of it, it was a little pricey but worked right away, check with your vet. (03/09/2006)

By Barbara
Dog Eating Feces
Our breeder told us the most effective way to prevent coprophagia (the eating of feces) is to PICK UP THE POOP! Also, feed a good quality dog food as cheap stuff goes right through and has a sweetened quality to it after passing through the dog.
Sprinkling "Accent" on the dog food will also help. That is basically the high priced powder from the vet. This is normal behavior for dogs however disgusting to humans. So picking up after the dog is the easiest and most economical method of prevention. (03/10/2006)

By Vicka
my chihuahua
My chihuahua has been eating her babie's poo..I keep all my dogs in door so I usually watch out for them pretty well..what are ways that I can make her stop eating her pups poo?? because the pups are starting to eat their own poo also! (03/20/2006)

By Mary
Dog Eating Feces
My 10 week old boxer eats her poop. She will not eat the poop if its outsideas. She also eats worms and beetles. I chase her to get the worm but she runs fast with the worm dangling from her mouth. she also has tried to eat the carcass of a frog, and she tried to chase a wasp. I was so scared she was going to get stung. I love her to death but she has to be the weirdest pet I have ever owned. (06/24/2006)
By marcy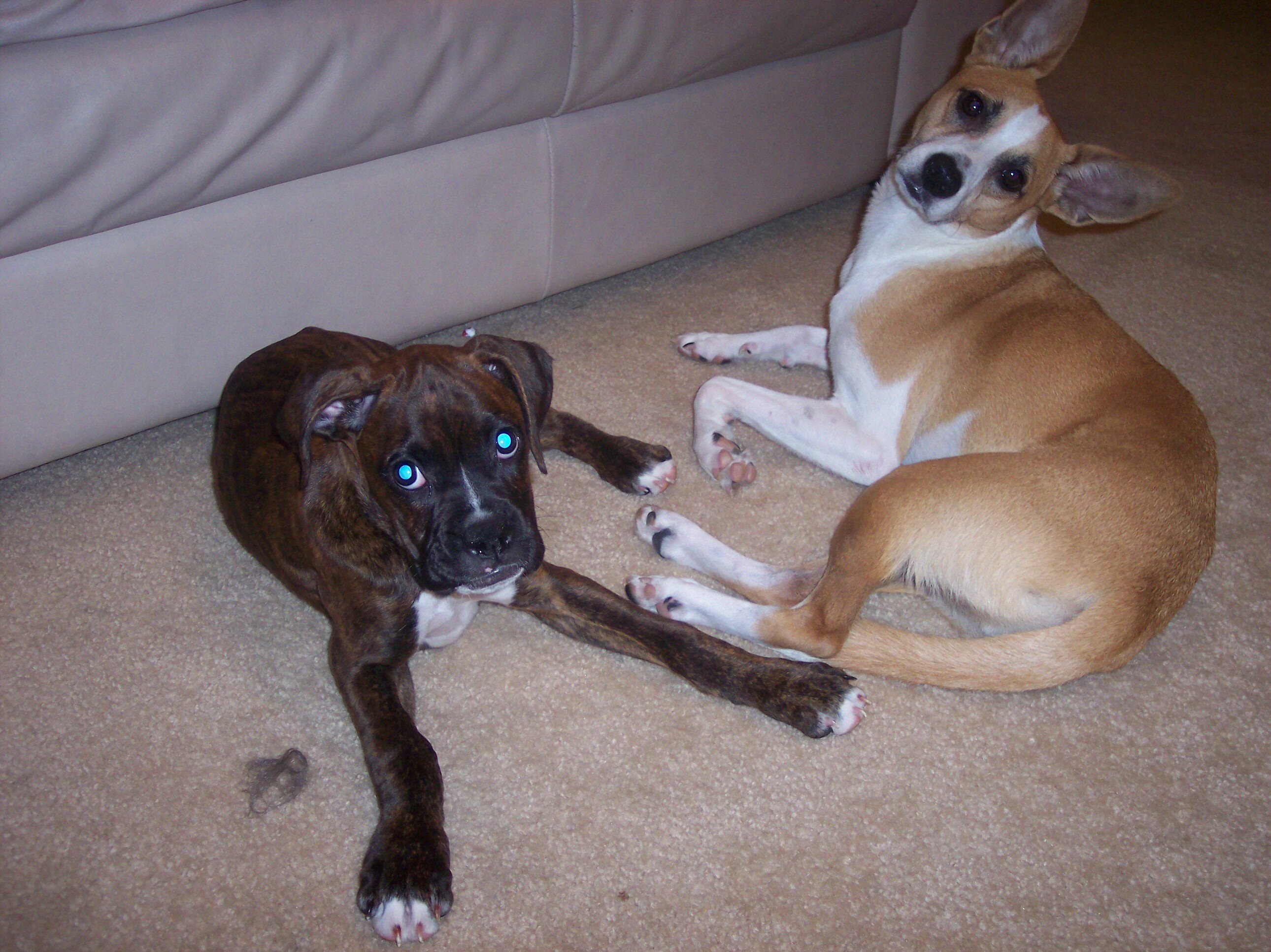 Dog Eating Feces
My Shepard/ Lab mix, Cookie, will eat just about anything, including feces of other animals like groundhogs, but she never ate her own. She is spayed and never had a litter. She was fed kibbles and bits the first few years and Pedigree the last few. She did get a little overweight She was up to 100lbs. We cut back her food slightly and the next trip to the vet she weighed 110lbs. We found out she was visiting an elderly dog next door who didn't have much of an appetite anymore. She would finish his meals, I guess he didn't mind as he enjoyed a little company. We put an end to that and got her weight down a little. One night two months ago she was let in to our back porch where she is kept. Ten minutes later my wife went to the porch and Cookie couldn't get up on her hind legs. An expensive trip to the vet showed no reason, negative E-rays, for her lameness. Although she tested positive for Lyme, the vet doubted the lameness from Lyme could be so sudden and severe. The vet prescribed antibiotics for the Lyme and an anti-inflammatory/pain killer. She had little control of her bodily functions and began to eat her feces, I believe, in an effort to keep her area clean. We stayed on top of her and kept her area clean. She gradually gained control of herself and can walk on her own. The last few weeks once in a while we would smell the feces and find a small remnant on the floor. She ate it. The other day I had her outside She pooped and immediately began to eat it. I stopped her and cleaned it up. It would be easy enough to taker her out on a leash and keep her away from it, but how can I keep her from pooping and eating it at any given time inside? Does anyone think an additive or a different food would help? (03/18/2007)
By Tony
Dog Eating Feces
If you dog has worms, take it to a vet for treatment.

Try putting canned pumpkin in her food. For some reason they don't like the taste of their poop when they eat pumpkin.

Scoop the poop, and ask your neighbors to do the same. Leaving it lying about spreads disease. (03/18/2007)

By sylviecyn
Dog Eating Feces
i haven't had this problem but some friends have. they sell an additive to dog food that makes it not quite as tasty to the dog. This stopped it. Don't know the name or brand but they should have it listed in one of the dog supply sites. Hope this helps. John (03/20/2007)

By john
Dog Eating Feces
i was told by my vets to give my dogs the original garlic capsules as it gives off an odor that the dogs find nasty, so i have been doing for a few days now. "watch this space" (03/28/2007)

By Marion
Dog Eating Feces
My dog is the weirdest. Mis Mish, a 4 month old pomneranian sadly eats his own poop. Pees not like other doggies, just stands there and pees. Lies down like a rabbit and yeah. We tried pineapple but didn't seem to work. So we're wondering to try an egg a day but aren't sure if its safe. What should we do? We can't pick up the poo every single time he does his "job" because we're not always around. What should we do? (06/03/2007)

By Sara