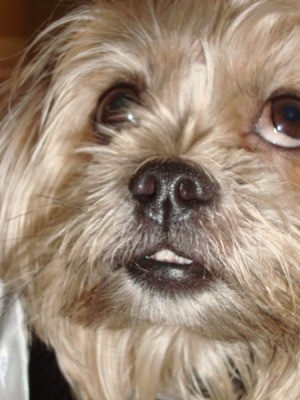 My 3 year old Yorkie/Shih Tzu (11 pounds) got suddenly very weak and lethargic almost 4 days ago. He has eaten very little and had a fever the first 2 days of his illness. He has thrown up a couple of times and had a little diarrhea.
I took him to the vet, who could not find anything wrong except the fever and a little blood in his stool. She thought it could be colitis or a virus. She gave me a liquid antibiotic to give him twice a day and injected cold saline under his skin to hydrate him and bring down the fever.
I don't believe he has a fever anymore, but he is still extremely weak and is twitching a lot. I don't have a lot of money and don't know what else to do? He has not eaten anything out of the ordinary. I am sickened with worry. Please help!
By Cindy D.
Answers
August 15, 2011
0

found this helpful
Best Answer
I would think you could call your Vet for advice on the new symptoms. Hopefully you would not be charged for that. Good luck.
August 15, 2011
0

found this helpful
Best Answer
It is hard to say since it is not known what is wrong with the dog. I often give my dogs benadryl, at 1/2 to 2 mg per pound of body weight.
I don't know if this would help or hurt since I don't know what is wrong with the dog. I would call and ask the vet and tell the vet you think the dog had an allergic reaction to the antibiotic and if he/she thinks you should give the dog benadryl. I am so sorry you are having this problem.
What all did the vet test your dog for? How extensive did he go in diagnosing the dog?
Blessings,
Robyn
Answer

this Question

...
My dog is a Shih Tzu female. I had her to the vet last week for shots. Now she is twitching. She is only 6 years old. What could cause this?
By Paul from Port Chester, NY
Answers
September 6, 2011
0

found this helpful
Best Answer
It sounds like a possible allergic reaction to one or more of the shots. Take her back to the vet. If he/she won't or can't give you anything for her relief, then call around to other vets till you find one that can. Don't accept that "it'll go away before long". I've been that route. Whether it goes away or not, there's a reason why she's twitching now and there's no reason not to do something to give her relief.
Answer

this Question

...