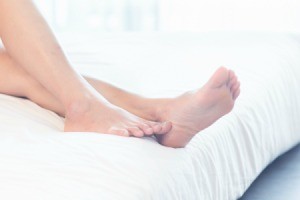 My dh and I had a bad case each of the "twitches" the other night. Neither his legs nor mine would stop twitching for quite some time, and even getting up and walking around did not help. It made sleeping impossible until finally our legs calmed down.
Is there anything that anyone could recommend. Please be aware that I live in Oz, and what you might find common and everyday in your country may be different or not available in mine. I'd really welcome any suggestions. Thank you for your time and trouble.
Leonie from Warrnambool, Victoria, AUSTRALIA
Answers
By Leslie (Guest Post)
August 25, 2008
0

found this helpful
Best Answer
There is a syndrome called Restless Leg Syndrome. If it continues you need to see a doctor. There are prescription medications to help.
August 25, 2008
0

found this helpful
Best Answer
My husband and I get the same thing, if you have a massager, take turns massaging each others legs, it will work the twitching out enough for you to go back to sleep. Then the next morning start eating bananas to get your potassium, drink some milk for the calcium and increase you magnesium.

August 26, 2008
0

found this helpful
Best Answer
The fix may depend on what type of problem is causing the twitching.
For me, magnesium tablets and icing daily helps a bit to relax the muscle...but I have a compressed nerve under my calf. This twitching is caused when I feel like my leg is like a winch being pulled tighter, and tighter, and tighter until it explodes!
Other suggestions by my doctor was tonic water (also known as quinine water) nightly, daily doses of major electrolytes (in my case, drinking a 12 oz portion of the lower calorie Gatorade), etc.
In my younger days, I would have muscle cramping that would be severe enough to lead to twitching. Potassium usually helped.
But I would strongly suggest visiting a doctor when possible. There are many different causes of leg twitching and you might need physical therapy to correct them as well.

August 25, 2008
0

found this helpful
I was in a coma 3 years ago and when I woke up and began recovery for multiple organ failure I had the same problem. The doctors prescribed 500 mg magnesium tablets, and increased my calcium intake. I try to get calcium in my diet, the magnesium is available at most drug stores.
I still have them periodically mainly when I haven't had enough milk.
Good luck, I know how aggravating this can be,,
Read More

Answers