Get it all out of those jars with this gadget from the Netherlands.

My Dutch friend has introduced me to The "must have" kitchen utensil for us frugalites. It's a bottle/jar scraper called a flessenschraper (bottle scraper) or flessenlikker (bottle licker) in Dutch. It is a spatula designed to scrape out all the contents in bottles, cans, and jars especially the long ones with a top too narrow to get our traditional spatulas into.
The Dutch are known to be a frugal nation, so it is no surprise that they came up with this gadget. It appears that though it is easily purchased and widely used in Holland, it is almost unknown outside that country. I use mine so much that it's time to get new ones.
Scraping peanut butter jars, soup cans, mayonnaise jars, etc. with one of these shows just how much we waste because we don't have the proper tool. They are simply made but they are simply awesome tools.

Source: Gift from a friend, but you can see a picture and read more about this item on the Wikipedia website:
By Sandy from Elon, NC

Answers:
Dutch Bottle Scraper (Flessenschraper)
Available from Fantes.com. Although I have not ordered this item from Fantes, I have ordered other items and been pleased with the product. (04/23/2009)
By The Aunt
Dutch Bottle Scraper (Flessenschraper)
I come from a Dutch family (my parents imigrated to Canada some time before they married) and we had one of these in the house all the time while I was growing up. They are amazing. I wonder if it would be possible to find one in a Dutch import shop out here. It would be easier than ordering online I think. (04/25/2009)

Dutch Bottle Scraper (Flessenschraper)
Long thin spatulas are available from Pampered Chef in Canada. My narrowest is only about 1/2 inch wide. (06/22/2009)

By Jane
Dutch Bottle Scraper (Flessenschraper)
I sell Pampered Chef and we have a similar item called the skinny scraper, the one on the right that works well for this same thing. It sells for about $8.50, I think it works well at getting that last bit from the bottom of those jars. (06/22/2009)
By renee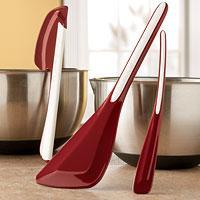 Dutch Bottle Scraper (Flessenschraper)
I use the handle of a wooden spatula or wooden spoon that has a flat handle end. Inexpensive and multi-purpose. (06/23/2009)

By Deeli