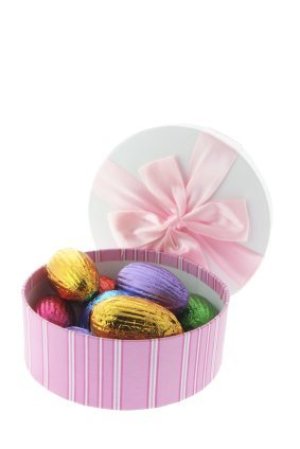 Does anyone have a good suggestion for a Easter gift for my son's girlfriend? I would really appreciate any ideas. She is 23 years old.

TDK from Ohio

Answers
By jean (Guest Post)
April 11, 2006
0

found this helpful
I have a similar problem. My nephew is bringing his girlfriend to meet the family, and I always give him a gift. I bought an assortment of shower gels in various scents, and also a nice candle set. Both were on sale. I will see which one seems better for her and save the other for an Xmas gift.
If your area has t-shirts of your town, local attractions etc, how about one of those?
Flowers/flowering plants.
Food- do you make something she likes, or a gift card for their favorite restaurant.
Gift card for her favorite store.
By Julia (Guest Post)
April 11, 2006
0

found this helpful
Girls LOVE Bath and Body Works types of things: Lotions, bath gel, body spray. Maybe get a cute but inexpensive basket (bonus points for 're-use-ability'), and put in Easter grass and get her maybe a small lotion, body spray, a candle, and something to put in her bath. As for what scent to get, may I suggest you DON'T get peach...anything but peach.
Many of my friends dislike it and can't even give it away. I know it would THRILL me to get an Easter basket like this. To 'Easter' it up, you could even throw in a small box of Peeps in a coordinating color...or some plastic eggs, with bath beads inside?
By Sheryl (Guest Post)
April 11, 2006
0

found this helpful
How about a pair of spring earrings? My 19 year old loves getting earrings.
By Tripleb (Guest Post)
April 11, 2006
0

found this helpful
My sons are 26 and 20 and I still give them Easter "baskets" - only the baskets are something functional for them - small coolers, popcorn bowls, one yr even oil pans for draining the oil from their cars! I fill them w/candy and anything else I think they could use. I've done the same for their girlfriends - girls love the new little storage containers that would fxtnl yet cute for holding dresser items and so forth.
The previous post's idea would be great to fill them up - I usually give the girls less candy 'cause they're always watching their figures!!! Have a Blessed Easter!!

April 11, 2006
0

found this helpful
I made pretty little baskets for nieces with
small basket filled with lip glosses, nail polishes
and manicure things.I did add small amouts of
chocolates as they are not into candy.
By Diana (Guest Post)
April 12, 2006
0

found this helpful
How about tanning lotion, lip balm, flip flops theme basket
or scrapbooking embelishments theme basket
or photo album, with pics of the dear one of course
Potting soil, seeds, painted pot?
Nacho basket? Chips, salsa, etc.
By tdk (Guest Post)
April 12, 2006
0

found this helpful
Thanks for the ideas! These are things that I never thought of, my only excuse is I have no girls and my niece is still very young.

April 13, 2006
0

found this helpful
I'd say give her chocolates!!!
By lynda (Guest Post)
February 24, 2009
0

found this helpful
How about a candy bouquet. They vary in size, costs, types, etc. I had good luck with this site:
Answer

this Question
What should I give my sister for Easter, she is very picky.
By hiandbye

Answers

February 26, 2013
0

found this helpful
Just a question...when did Easter become another gift giving time, except small Easter Baskets for children? How old is your sister?

February 26, 2013
0

found this helpful
If she is a generous soul, a donation in her honor to the local food bank or shelter would be nice. I hope this puts your list in perspective. PBP

March 11, 2013
0

found this helpful
I'd make a donation to a homeless shelter or food bank, in honor of her birthday. Either have them send her a card stating your great gesture on her behalf or you send a card telling her that you thought enough of her to let others rejoice on her behalf.
We've done this 'in memory' or 'in honor of' family members or dear friends' passing. We've gotten good responses from those we sent the cards to + it helps out charities always in need. Hope this helps you out.

February 22, 2019
0

found this helpful
Hi,
Money works for people who are picky about gifts ;)
Answer

this Question

My son has to bring in a small Easter gift for his kindergarten classmates. I don't want to send chocolates or sweets. I was thinking of sending a couple of pieces of sidewalk chalk for each friend. Good idea? I would also like to include a little poem or phrase with it. Any ideas?
By Milena Lewis
Answers

Louise B.
Silver Feedback Medal for All Time! 337 Feedbacks
March 9, 2012
0

found this helpful
I think a couple of pieces of sidewalk chalk is a very nice gift. You could also include one of those little fuzzy yellow chicks, if there is supposed to be some sort of "easter" theme to the gift.
It would make a change from candy treats.

March 10, 2012
0

found this helpful
In dollar stores they sell rabbits with bendy arms and legs, I would put an elastic around a couple of pieces of chalk then wrap the arms and legs of a bendy bunny around them. You could add a little note that talks about how the Easter bunny loves colour and he likes to spread this love around.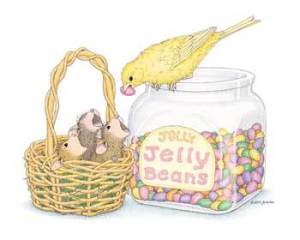 Teresa Tart
Bronze Feedback Medal for All Time! 213 Feedbacks
March 10, 2012
0

found this helpful
That is a good idea but not all children have a place to use it. I know my children would not be able to use it. I suggest a small container of play dough or packs of gummi bears, go to the dollar store and see what they have that all the children have a chance of using!
Answer

this Question
Does anyone have any good ideas for forcing bulbs for Easter and Mother's Day? I'd like to give the flowering bulbs as gifts. How do you do it? What kind of containers do you use?
By Sara J.
Answers

February 2, 2001
0

found this helpful
Sara,
I have never forced bulbs before so I looked through my gardening books and they offer varied ways to force bulbs. I also did a search on forcing bulbs. Here are a few of the sites that give varied instructions. I am sure that you can find atleast one that suits your needs.Do a search on each site for forcing bulbs to bring up the right page.
gardenguides.com
bhg.com (BetterHomesAndGardens)
bulb.com
sunsetmagazine.com ( click on garden then forcing link)
canadiangardening.com
I hope this helps you. Good luck forcing!
Mrs Kathy Cohen
Northfield,VT
Answer

this Question