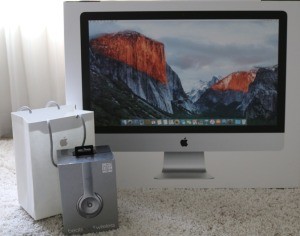 In June of 2016, I shopped Apple's Back to School Deal where I was able to receive an Education Pricing Discount on my iMac purchase plus, eligible for the current promotional offer which was a pair of wireless beats for free with purchase, a $299 value.
It was well worth the wait for this deal because I was able to save money and even receive a gift. I would never spend that much money for a pair of wireless headphones.
Good times to be on the look out if you are interested in purchasing an Apple Product:

Apple's Back to School Event (date and eligible gift varies, some years it is an iTunes gift card)
Black Friday Event
During Apple's New Releases, shop the previous generation for savings
Subscribe to Apples newsletters for updates
You may qualify for Education Pricing and Discount on new Mac and iPads from $20 to $300 savings. You can receive Education Pricing at any time, you will need a valid College Student ID, College Acceptance form, Parent purchasing for a College Student, staff or a teacher.
If you are not interested in purchasing an Apple product new. You can purchase a pre-owned, refurbished or used one. The best time to purchase those are when a new Apple product is released and many are trying to get rid of their current Apple product, for the new and latest!