Fabric Door Silencer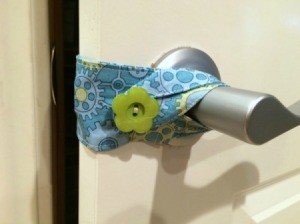 Making it out of my son's room when he was sleeping was always a challenge. It seemed like no matter how hard I tried, the door latch would make too much noise. After seeing some ideas online, I created this fabric latch silencer. It works really well and its cute too!
Supplies:
2 fat quarters of fabric
button
scissors
thread
sewing machine
pins
tape measure
Steps:
I created a template by measuring between the door knobs (across the latch) for the latch cover. I also measured around the doorknobs, for the straps.

Cut out the templates, then trace them onto the fabric. Cut out the fabric pieces.
Cut out the pieces for the "loop" strap and the "long" strap. Fold it in half, right sides together, and sew along the long side (leaving ends open). Tie off threads, cut off excess seam allowance, and turn right side out. Finger press and top stitch on the long sides. Set the "long" strap aside.
Cut out (2) two pieces for the latch cover. Put the right sides together. Pin the "loop" strap into the seam allowance on one of the short sides. Sew the latch cover along the 2 long sides and the short end where the "loop" strap is. Trim corners and seam allowances, if desired.

Then turn right side out. Finger press along seams, if desired.
Sew button on. I suggest test fitting the silencer on the door to determine button placement. You don't want the button to get caught in the door.
Now it is time to attach the "long" strap. Turn the edges of the latch cover opening under. Pin one end of the "long" strap in the opening at the bottom edge.

Test fit the silencer on the door to determine how long the strap needs to be. (When folded over to create a loop, the strap will wrap around the door knob and hook over the button.) Once you have determined the appropriate length, pin the other end of the strap into the seam of the latch cover. Sew the opening closed and top stitch around the edges of the other 3 sides.
Here's how it works:
Add your voice! Click below to comment. ThriftyFun is powered by your wisdom!
Related Content