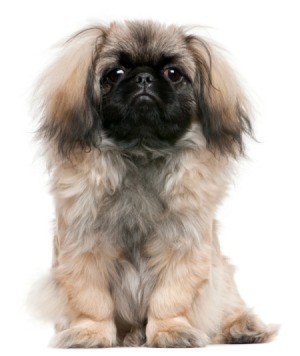 Facts about Pekingese
In folklore, the story of how the Pekingese came to be goes something like this: A lion fell in love with a marmoset and wanted to marry her. Unfortunately, their difference in size was too great. In order to marry his true love, the lion begged Buddha (in some versions it was the Patron Saint of Animals) to reduce him to the size of a pygmy, while allowing him to retain his character, including his great lion heart. The offspring of this union was said to be the first Pekingese, the Lion Dog of China.
Pekingese Quick Facts
Area of origin:
China
American Kennel Club group: Toy Group.
Original function: Lap dog, palace guards
Overall appearance: A well-balanced and compact, muscular body that is low to the ground with noticeably bowed legs; a large, broad head and a flat, short face with large round eyes. The coat forms a mane at the neck and shoulders, giving the dog a lion-like appearance.
Coat: Pekingese have a double coat consisting of a long coarse outer coat and a soft undercoat. The coat forms a mane on the neck and shoulder areas and is somewhat shorter in length on the remainder of the body. Modern Pekingese feature two styles of coats, the long-haired and the more traditional Spaniel-type coat.
Color: According to the AKC breed standard, all colors and patterns are allowable, although most Pekes are gold, red, or sable. Cream, black, white, black and tan, and occasionally slate blue colors are also seen in the breed.
Height: Approximately 6 to 9 inches at the withers (point of shoulder).
Weight: Not to exceed 14 pounds.
Average lifespan: 13 to 15 years.

A Breed of Imperial Origins
The Pekingese, named for the ancient city of Peking, is one of the oldest dog breeds. The breed originated in Western China and owes its existence to the Lamaist form of Buddhism, in which the lion was an exalted religious symbol. When China adopted Buddhism, the small dogs that served as companions to the monks were carefully bred to accentuate the characteristics of a miniature lion. The monks were so successful in doing this, that eventually these little lion dogs became a sacred religious symbol and were bred exclusively for the Imperial family. The smallest of the Pekes were sometimes carried around inside of the huge sleeves of the Imperial robes, earning them the name Sleeve Pekingese. As companions, fashion accessories, and guards of the Imperial Court in Beijing, the Pekingese were held in such high regard that causing them harm or getting caught smuggling them out of the royal precinct was punishable by death.
Pekingese were introduced to Europe as a result of war. When the British overtook the Chinese Imperial Palace in 1860, they returned to England with several of the dogs. Lap dogs were considered a symbol of wealth and status at the time, so the demand for the little dogs grew quickly. Pekingese were first introduced to America in the late 1800s and still remain one of the most popular Toy breeds in the United States today.

Independent, Yet Affectionate
Like lions, Pekingese are courageous, dignified, and devoted to their family. They can be calm, playful and affectionate, and also willful, stubborn and reserved. This breed does not respond well to being scolded or handled roughly. However, once you have earned their love and respect, these little dogs usually turn into wonderful, well-mannered companions even without the benefit of formalized training. Pekingese are typically polite with strangers and accepting of other animals and their small size makes them a good choice for people living in small homes and apartments. They are highly intelligent little dogs, but due to their independent and willful nature, they can sometimes be difficult to housebreak.

Grooming and General Care
Pekingese shed a lot. Their long undercoat will also mat unless combed for a few minutes at least a couple of times a week. To make grooming easier, many owners keep their Pekes in a lion clip for at least some (if not all) of the year. With this type of clip, most of the fur on the body and legs is shaved short, leaving only a tuft of fur on the tip of the tail and paws and a long lion's mane around the head and neck. This makes maintaining the coat much easier and also keeps the dogs more comfortable during warmer weather. Other routine grooming tasks include keeping their nails trimmed, teeth cleaned, and the folds of skin over the nose clean and dry.
Pekingese don't require a lot of exercise, but like all dogs, they benefit from the mental and social stimulation provided by short daily walks. They are relatively calm and inactive while indoors, with occasional outbursts of intense play. Because Pekes originated from the frostier regions of China they tolerate cold extremely well, but not heat. Care must be taken to prevent them from overheating, especially during warm weather.

Health Considerations
Although Pekingese are typically considered a vigorous, healthy breed, they are still prone to certain health problems, including brachycephalic syndrome, dry eye, and patellar luxation.
As with all short-muzzled breeds, any issues with the nose (ease of breathing) and eyes should be monitored carefully.