Father's Day "Dad You Rock" Gift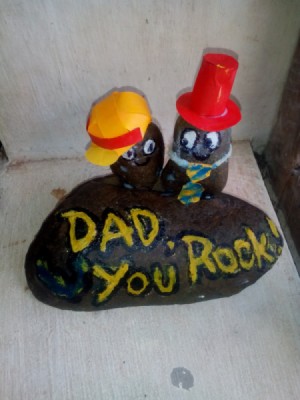 Greet your fathers with a piece of unique rock art. One thing that I like about this craft is that when you talk about rock, it means less expense. Plus, borrow your kids' school stuff and just be resourceful. Let them join the fun!

Supplies:
1 large rock
2 small oval shaped rocks
art paper clippings
scissors
hot glue
white glue
paint brush
watercolor
black markers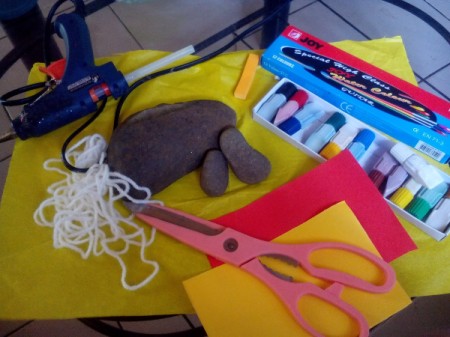 Steps:
Let us start doing the accessories, beginning with the father's hat and the son's cap. Cut out two small circles and one circle with an extension on the side. Cut out some strips of art paper too.

For the father's hat, roll a wide strip of paper about 1 x 1 1/2 inch.

Glue it onto one circle.

Cover the top with another circle and trim. Set aside.

For the boy's cap, get the circle with extension. Cut a line on the middle, near bill.

Get 2 strips of paper and glue together to form a cross.

Insert one tip of the cross into the opening and glue it onto the bottom of the circle. Glue the rest of the tips, too. It should form like a boy's baseball cap. Add another cross and a strip attached horizontally to the cap. Set aside.

For the necktie, get a strip of paper and cut its end like a tip of an arrow.

Roll the other end onto a piece of string and secure with glue.

Make it more detailed by adding stripes and cutting the sides that should make it look like a tiny necktie. Just trim the tip if it's too long.

Now, get the two small rocks. Put 2 white dots in each. Trace around the sides and put a dot in the center of each of the white dots using a black marker to form the eyes. If you don't like to paint put on the wiggly eyes instead. Draw a curved line below for the mouth.

Stick on the father's tophat and the boy's cap. Put on the father's necktie.

Using hot glue, attach the two small rocks letting them stand on top of the large rock.

Write your message onto the space using watercolor paints. Trace the sides of each letter with the black marker to emphasize the writings.

Brush the rocks with white glue all over to add shine. Let dry.

It's ready when it dries completely and is ready for gift giving.
Published by ThriftyFun.
© 1997-2022 by Cumuli, Inc. All Rights Reserved.
https://www.thriftyfun.com/Fathers-Day-Dad-You-Rock-Gift.html