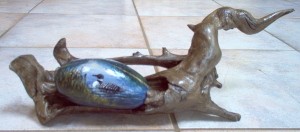 I love using natural objects for crafts. They look great on a table in a cottage or your home.
Approximate Time: 2 hours approximately
Supplies:
a small smooth rock
an interesting piece of driftwood
acrylic paint, brushes, and varnish
hot glue gun
Instructions:
Enjoy a day at a lake, beachcombing for interesting driftwood pieces and nice smooth rocks that will fit nicely onto the driftwood.
Find or take your own photo of an animal, bird, or flower that you like.
Prepare your rock: wash, let dry, and then paint it with 2 coats of black acrylic paint (or whatever colour you like). You can buy acrylic paint at most dollar stores or in the craft area of department stores.
Following your photo, paint the animal/bird you like on it. (I use white tracing paper I purchased at a craft store to apply my pattern onto the rock.)
When you have finished painting, seal the rock with varnish (3 coats).
Clean the sand and debris off the driftwood. You can wash it, but let it dry for a couple of days in the sun, or you can use an old paintbrush to brush the dirt off.
Varnish the driftwood (3 coats, letting it dry well in between coats).
Decide on a place on the driftwood where the rock will sit upright and then hot glue it to the driftwood.
This is a beautiful cottage or home decor craft project using natural materials. It is also a great conversation piece to put on display. You can help kids with this craft providing them with photos of simple objects to paint (a basic flower, a smiley face, etc.)
By ann from Goulais River, Ontario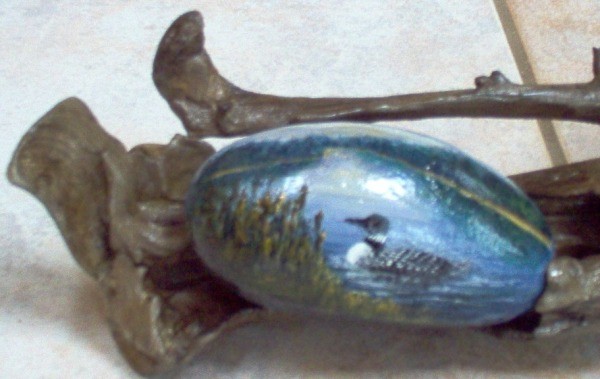 Read More

Comments

I keep my fresh flowers longer by putting them in stones I've collected at the beach. The jar is decorated with rub on decals.
When the flowers die, I clean off the rocks, add shells and leave it.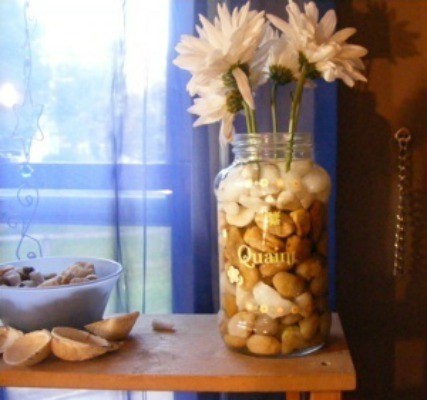 Read More...

gem
Bronze Post Medal for All Time! 163 Posts
I bought a bag of river rocks. They are smooth. I'd like some ideas for making them into something for an Employee Appreciation Day we are having. I think I'd like something simple or decoupaged to enhance morale, as well as, saying "thank you" to each employee.
Please help me out with some unique ideas or with a web url you have favored. Thanks bunches.
By gem from Gordonsville, VA
Answers

July 3, 2010
0

found this helpful
Glenda:
Honestly, I would be totally insulted.
You would do better with donuts in the am, a catered lunch, a paid day off, gift certificates, scratch off Lotto tickets or even better, raises.

OliveOyl
Bronze Feedback Medal for All Time! 138 Feedbacks
July 3, 2010
0

found this helpful
I agree with JennyJo 100%. Your idea of making trinkets with river rocks is way off base. Give something employees can use.
I love the idea of a catered lunch. It doesn't have to be a gourmet spread but I bet everyone would appreciate it.

gem
Bronze Post Medal for All Time! 163 Posts
July 3, 2010
0

found this helpful
Well the appreciation day is something that isn't done by the company and I was trying to figure out something kinda like a keepsake for them. We have no funds for any activities for the employees so it was decided and agreed upon that we would all chip in for the food, charcoal, paper products etc. The site is free and the swimming area is free.
With that said I just wanted some neat ideas to try to put a smile on a few faces.

Lee Taylor
Bronze Feedback Medal for All Time! 171 Feedbacks
July 7, 2010
0

found this helpful
Think of a specific quality each person possesses, like integrity, courtesy, generosity, etc. and put that one word on the stone. Then write a note to each person explaining how much they are appreciated for being courteous, generous, honest, etc.
That way, when they look at the stone, they will be reminded to continue with that trait and that they are appreciated for it!

Janet
Silver Feedback Medal for All Time! 399 Feedbacks
July 8, 2010
0

found this helpful
I love the feel of river rocks. A paperboy used one and painted it to look like a turtle. I still have it. A few months ago, I was at a play where everyone got to choose a rock with one word painted on it (such as love, patience, etc.). I love it.
I think it's a great idea.

July 11, 2010
0

found this helpful
This is a wonderful idea, with little money spent, everyone will enjoy a thoughtful gift. wrap the stone in a small piece of gift basket wrap (at dollar store), and a piece of ribbon to hold it together, put a tag on it with the persons name and why this word pertains to them, I for one would love it,
Answer

this Question

I saw on here someone was making rock crafts. I would like to see that again, as I want to make some.

Thanks

Answers

June 5, 2008
0

found this helpful
Do you mean decorating rocks by painting or decoupaging?

June 5, 2008
0

found this helpful
try this...just scroll down a little

June 5, 2008
0

found this helpful
google something like : cute garden stones -- you will get ideas :)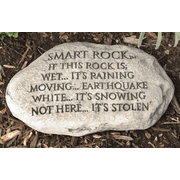 December 6, 2008
0

found this helpful
I happen to be one of those people that collect odd stones from everywhere I travel.
This hobby cost nothing and just might keep memories alive for many years.
with a little paint and immagination I have made bookends,doorstops and candle holders from some rocks.
So ROCK ON!
Mr. Thrifty
Answer

this Question
If you need a soap holder, make one yourself. Cement and pebbles are great for this. You will spend quite a bit of money and get an original soap holder. Of course, you can just stick the pebbles into the cement, but then the tops of the pebbles are unlikely to be on the same level. I came up with the idea of first laying pebbles in a mold, and then pouring cement.