I wrote this for my Facebook page for people who wonder about what kind of pets ferrets make.
Ferrets are members of the skunk, weasel, badger, and otter family and they are funny, charming, and lovable after having taught them what is acceptable behavior. You do not keep them in a cage, certainly not a terrarium, which I have seen people do.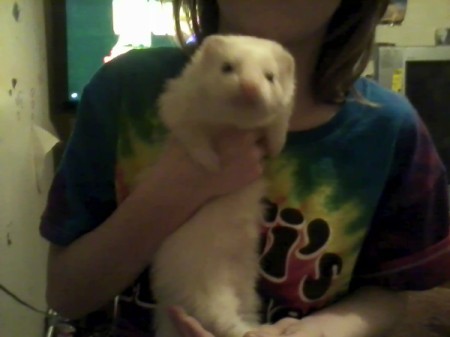 Ferrets need lots of attention, lots of teaching and training because they are so smart. Some habits will not be able to be taught out of them, such as their penchant for stealing things. Some will steal shoes (Tinker is a shoe stealer). They will do as much as they are allowed to do. They will have a stash of things that they collect that is very hard to get to. Mostly I dig under the bed when something goes missing.
My ferret, rather than having an expensive cage, has a recycled cage that stays open all the time in a back room, that is like a sun room. This gives her room to play and climb and explore and it is a linoleum floor so clean up is easy.
Tinker is a comical little ferret, she is like an otter, she likes to do funny things and show off. Her favorite thing to do is to back off a bed, fall straight down, and then act surprised and laugh at herself. She will look up at you with bright eyes and run with your shoes and take them off your feet if she can.
She has learned to bite when not put down when she wants to be. She does it because she is in a hurry. Ferret skin is very tough and doesn't feel as well as human skin does.
I would not put a ferret around a child or old person, because if they can't react fast, they shouldn't be watching a ferret. Ferrets are sweet, loving and cute and try to get attention by making people laugh. This is a problem when training, if you laugh it is like a reinforcement of a behavior. Tinker will do things that are not really funny, but you can't help but laugh at her, like when she tries to take off a shoe. Well now you see, she is totally shoe oriented, a bandit, which is what the name ferret should mean or translate into.
People who keep ferrets in cages and think you can clean out the cage once a week or so will not be happy and neither will the ferret. They need constant cage cleaning, which isn't that hard at all. If their needs can be met and they are not stuck in a cage, but have their own room or space then they are great pets. They try to get out the door, and that presents problems and you can't get them out of that. They are too smart. They watch and learn. I would not be surprised to learn that ferrets are smarter than dogs, pigs, or cats in their own ways.
Being that they are like "polecats" they will have a smell. If their scent glands are removed and they are spayed or neutered they will be OK. They will always have a smell. I actually like the smell of mine. It is a musky scent, not an offensive one.
Marshall ferrets have two ink spots tattooed on their ear. This means they have been de-scented and neutered or spayed. A female ferret can actually die from not being spayed.
They are rough players and I am going to get another ferret soon, to be friends with our other ferret since it needs a playmate since they play so rough together.
They are a joy if you know ahead of time their behavior and personality. I would not let a small child have a ferret as a pet since their care needs are too high. They need to be fed a diet high in protein, and given ferret vitamins.
When things get out of hand, if you hold them gently by the scruff they will yawn and go into a sleep like state. This is a way to get them to stay still when you have to examine them or quickly but carefully clip their little claws, with a very small animal nail clipper like the ones used on guinea pigs. Also they love their "supplement" and they will lick that up while you are doing their nails.
I guess you can tell we love our ferret. We got her off of freecycle.org. A lot of people don't really like having them when they find they make a mess. That is fine, there are ferret rescues around, and I am here too. :)