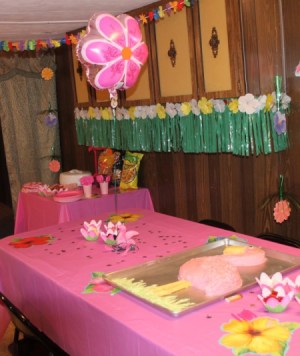 Children often ask for a "themed" birthday party. You know, themes like construction, bugs, safari, horse, etc. These can be expensive to pull together if you start last minute, but planning in advance can save money and still make for a fun and memorable event. This can be particularly important this time of year if a child has a December birthday which can get lost in the shuffle of holiday busy-ness.
Every year, our daughter chooses her "theme" well ahead of time, sometimes right after her previous party. This allows me time to be on the look-out for items that will fit with her theme. In the past she has chosen butterflies, pandas, monkeys, horses, and flamingos. These photos are (obviously) from the flamingo party!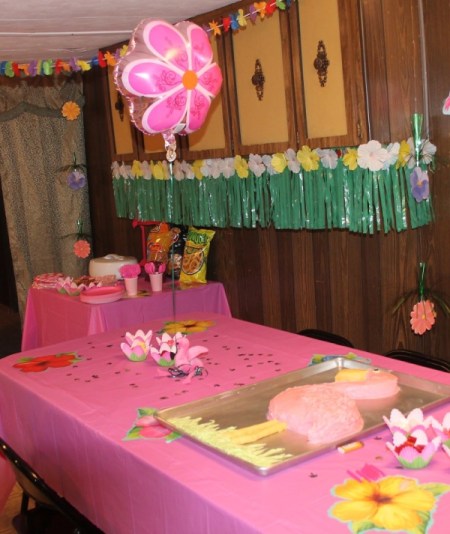 Once the theme is decided, keep your eyes open whenever you are out and about. It can be great fun to find something that fits the theme! For the flamingo party, I had to be sure to snatch up some Dollar Tree luau themed decorations. These are only available in the summer, so planning ahead allowed me to get these beforehand since they wouldn't be available in March (the month of her birthday). A few packs of flamingo cut-outs, hibiscus flower cut-outs and lei-style garlands only cost about $10 total and really established the theme. I shopped thrift stores after luau season and found unopened packs of decorations very cheaply. I diverged from "just flamingos" to include tropical flowers and found lots of great items, such as cupcake wrappers that looked like pink hibiscus and which held some snacks that fit the theme: pink and white fruit candies.
You only need a few specific items to establish the theme. You can make the rest of the decorations seem like they're specific to the theme by just matching the color. For example, we of course went with pink for table cloths, forks, plates, etc. It would be too costly to buy tablecloths with actual flamingos on them, but I was able to get plain pink tablecloths for $1. Because we had already established the theme, it was not necessary to have the more expensive ones. Why get an expensive flamingo balloon when you can find a pink flower balloon for $1? Everybody already knows it's a flamingo party and that pink flower will fit right in.
So, for example, if a child has a construction theme, establish the theme first with a few specific items and then go cheap with the rest, just using yellow or orange tablecloths for example. The same can be done for almost any theme and at very little expense for plates, balloons, forks, cups, streamers, gift wrap, tablecloths, napkins and more. Shop at stores like Dollar Tree for a nice selection of colors for all these items. Color ties everything together nicely. For our daughter's party next year, she has requested dolphins and sea turtles. Sounds easy to find blue and green colors to tie it together!
Because I look for items all year, the cost is spread out with a dollar here and there. I picked up a stuffed flamingo at a thrift shop, a plastic door cover at a yard sale, a flamingo balloon weight at Goodwill, you get the idea. Don't be shy about asking friends or relatives to lend you items that can fit the theme. They may have just the thing! Another great place to look for items (especially cut-outs) that fit is to try a school supply store. They have bulletin board packets on a wide variety of themes. That's where I have found great monkey and panda cut-outs, and they are much cheaper than buying decorations made "just for birthdays."
Don't try to decorate too much. Keep your decorations focused in just a few areas. We do the entry to the room (because it's what people see first), the tables where the food is served and displayed, and a backdrop for photos behind the area where she opens gifts. There are a few other things here and there, but I keep the focus in these three areas. It saves me from having to buy as many decorations.
A word about cakes... no need to spend an unseemly amount of money to have one made when you can make one yourself. Just go for it, and you might be surprised by what you can do. The flamingo cake pictured is on an industrial sized baking sheet I borrowed from church, so it is a big bird! I was able to make him myself just by cutting out the shapes regular box-mix cakes and putting them together, then icing it all. It delighted my daughter and was very inexpensive! It doesn't have to be perfect, your child will love it.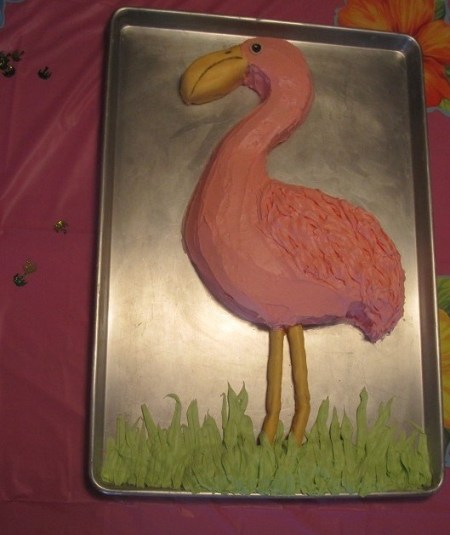 Make the party personal. I always try to incorporate a sign with my child's name. In this case it is on a pink sign held between two flamingos. It adds a special touch and is easy to do.
Another cost-saver is to keep food simple. Have the party at a time after people have eaten, and make it cake, ice cream, chips and drinks. I always have snacks that tie in somehow, such as the mini Oreo cookies I served at the panda party or the gummy worms at the butterfly party. These serve double-duty by being table decorations as well.
A child's birthday should not be a time to try to impress other adults, but a time to bring joy to the child you love. Don't worry that others will look down on your efforts. Keep your focus on that child and see their face light up when they see all the little things you have done to make their birthday special!