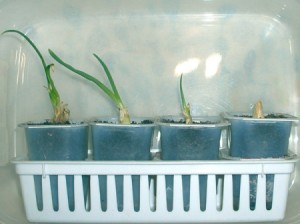 One year, my mother was given a potted Easter lily. After the blooms were spent and shriveled, she gave me the plant, to do with as I liked.
I lifted the plant from the soil and cut away all foliage to a point near the top of the bulb. Next, with a sharp, clean knife, I quartered the bulb from top to bottom. I gently separated the resulting layers of each quarter, making sure a bit of the bulb base was still attached to each piece. I filled three or four terra cotta pots with a good, loose soil, and planted these pieces to about half their height. I kept them moderately moist, never wet, never dry.
Within a couple weeks, there were signs of new growth stemming from the base of each piece. Granted, it would be three or four years before these pieces grew into bulbs of blooming size. Still, I thought it a good investment. With very little effort, I turned one Easter lily bulb into fifty.
This, or a similar procedure, can be used to increase the stock of many type bulbs, and onions are no exception. The pictures show the core of an onion which I removed and then quartered. I placed these quarters in soil, making sure that just the base of the bulb was covered.
Placing these plants in a sunny window or under gro lights, and keeping the soil moderately moist will almost insure new growth within a week. The plants pictured will be the perfect size to transplant into the garden by the time the last frost has come and gone. Yes, that fourth piece is a little slow, but it has rooted and will be along, shortly.
Another good investment; delicious, sweet, homegrown, and free, yellow onions.