Funnel Cloud taken just seconds before the tornado touched down in Gallatin TN, April 7, 2006.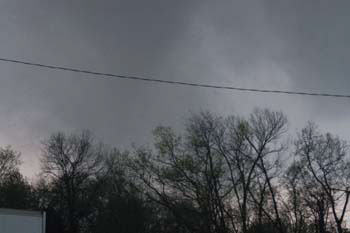 By windycitywitch
Answers:
Funnel Cloud
I can't even imagine how scary that must have been. May God bless each of you who went through that storm. (04/25/2006)

By Connie A.
Funnel Cloud
Wow, what an amazing picture. But I don't think I would have stood there long enough to take that picture, I would have been taking cover. (04/25/2006)

By grammar
Funnel Cloud
My heart goes out to you, I would have been terrified. Each scary storm or when Tornado sirens goes off, I think " Why did I leave San Diego, CA for Missouri?" People say oh but you had earthquakes but with earthquakes you did not have
warnings. I guess it comes down to what you are.
used to. (04/25/2006)
By meoowmom