Here is my yard and garden fountain.
Janey from Brookhaven, MS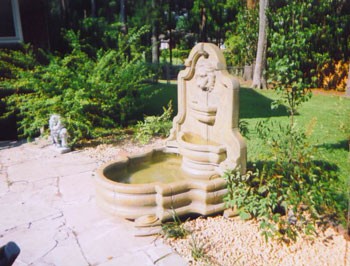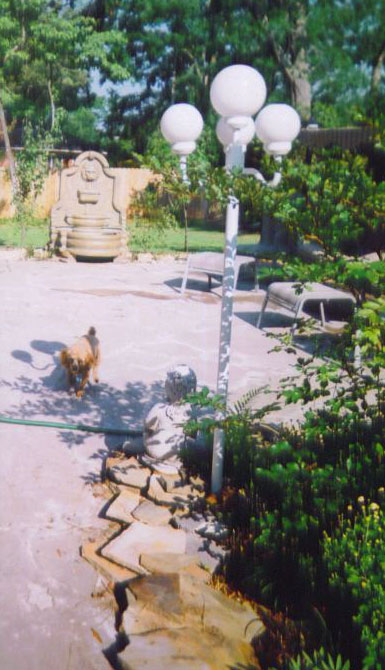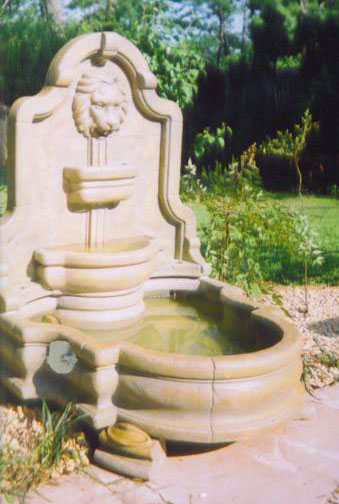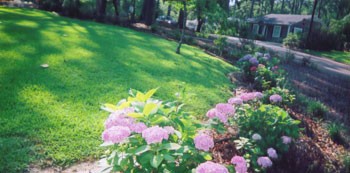 Answers:
Garden Fountain
Hi Janey
What a lovely garden and great photos, especially the main one. What is the plant/shrub with the pretty red flowers?
What type of area do you live in: i.e. tropical, temperate, subtropical, etc.? Thanks for sharing your lovely garden with us.
Cheers(08/24/2006)

By Wendy
Garden Fountain
Thank you for a view of such a lovely yard and fountain. It inspires me to get my smaller fountain on into use this coming Spring. It's for the wall and is metal, but much like your design. I've traded too much beauty for vegetable growing efforts and need to remember to try to have a good balance. My yard looks more farmlike. lol, but is beginning to produce edibles and getting better at that each year. I will try to find a place to "look at" when resting. I have been able to find three tiered stone birdbaths and fountains being tossed out by neighbors over the years especially when the West Nile and Bird Flu virus scares were so rampant. I also have recycled a damaged 3' deep , 40" round thick plastic planter into a water garden with mini-cattails, and a 10 year old bonsai Cyprus Tree, along with various Water Iris, but I struggle to keep it filled, mosquito free and attractive. Cattails can be dipped in wax and used like candles, as well are at some stage of growth supposed to be edible. lol. The bonsai tree is quite a specimen, I understand. It stands about 4 feet tall and grows only 1/2" a year as a bonsai. It's time to trim its roots. Good luck and God bless.
(08/24/2006)
By Lynda
Garden Fountain
Interesting to see. Our youngest son was born in Brookhaven 13 years ago tomorrow. Hubby was assigned to the armory in Monticello. (08/25/2006)

By aardvark
Garden Fountain
That is awesome! (08/31/2006)

By Misty