I have seen several ways but I have found one I really like on my own. I came across my beta fish food bottle and it seemed like the perfect size I wanted, so I emptied it out. I thought about newspaper but I had just received 3 new phone books, so I had 6 total. I decided to use the white pages of the old ones and they worked perfectly.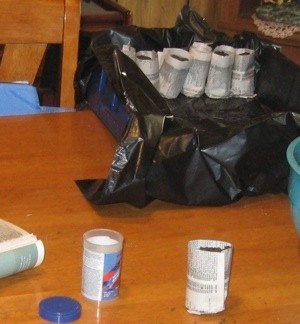 I start by folding one page in half. On the folded side (to make it neater) I roll the paper around the bottle. I fold the rough end down and put the cap on the bottom. That is why I liked using this bottle, the cap fits on both ends. Then I pull the bottle free, leaving the cap on. Fill your paper container with dirt then take off the cap and your paper container is ready for your seeds.
When you water, you can either water from the bottom. Put them in something waterproof, of course. Or you can spray them from the top. When it comes time to plant them, make sure you bury it with all the paper in the ground.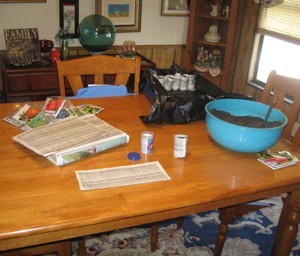 By Laura from Ocala, FL