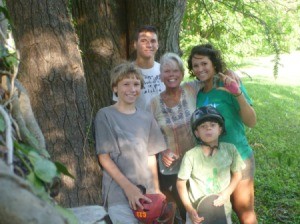 As soon as I hear, "Hey, Gigi, let's go geocaching," from one of my grandkids, I'm ready to go.
In case you don't know, geocaching is an outdoor treasure hunt in which participants navigate to a specific set of GPS coordinates and then attempt to find the geocache (container) hidden at that location.
We, my family and I, have located caches on vacations in Estes Park, Blowing Rock, and Amelia Island and at home in Gainesville and Miami. In so doing, we've had lots of fun, and we've exercised our minds and bodies all at little cost.
An example of a typical geocache was (it's now retired) one that my nine year old grandson found with the help of his siblings and me. Aptly named "Back to the Future," the time capsule container was gray and plastic, shaped like a blimp, and the length of a man's foot. And it was packed with little treasures: a wooden train whistle, Thomas pez dispensers, badges, patches, key chains, and Doggy Chew Chews; things a train enthusiast might like. Its hiding place? A big, black "climb on" locomotive at a railroad museum near my house.
To locate "Back to the Future" and other typical finds, here's what we have to do:
Log onto geocaching.com.
Visit the "Hide and Seek a Cache" page to locate the nearest caches in our area.
Enter the zip code and click.
Choose any geocache from a list and click on its name.
Enter the coordinates of the geocache into my granddaughter's phone or into a portable GPS device.
Next, using the GPS, we all get involved in the hunt for the cache which could be anywhere in the world; a local park, at the end of a long hike or bike trip, underwater, in a mall, or on the side of a city street.
Once we find the container, we take something out (in the case of the time capsule, the train whistle) and replace it with something of equal value (a George Washington dollar bill). Then we take pictures, sign the logbook, and replace the cache in its original location.
Back home, we share our treasure hunting stories and photographs with other family members and online.
I mention this because geocaching is a great, inexpensive summertime activity for kids and adults of any age. All you need is a GPS enabled device (your cell phone maybe), a little energy, and a sense of adventure.
By Viaux from Miami, Florida
Read More

Comments

What does the question mark symbol mean on the geocache map? We recently decided to start geocaching. It looks like lots of fun. Does anyone know what the question mark symbol on the geocache map means?
By mara from Seattle, WA
Answers

May 1, 2011
0

found this helpful
A question mark indicates an "unknown" cache--what that usually means is there is some sort of puzzle involved that you must solve in order to get the coordinates. They have a very devoted following--some puzzles are amazingly complex, others relatively simple. People get hooked on the puzzles!
If you are in Seattle, you ought to visit Groundspeak HQ; they are the founders of the geocaching.com website, and people make visits to Seattle just to go there!
Our family has been geocaching nearly ten years; it is a great activity!
Answer

this Question