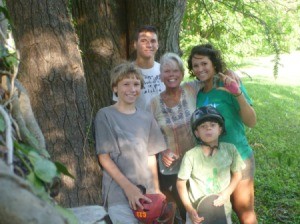 As soon as I hear, "Hey, Gigi, let's go geocaching," from one of my grandkids, I'm ready to go.
In case you don't know, geocaching is an outdoor treasure hunt in which participants navigate to a specific set of GPS coordinates and then attempt to find the geocache (container) hidden at that location.
We, my family and I, have located caches on vacations in Estes Park, Blowing Rock, and Amelia Island and at home in Gainesville and Miami. In so doing, we've had lots of fun, and we've exercised our minds and bodies all at little cost.
An example of a typical geocache was (it's now retired) one that my nine year old grandson found with the help of his siblings and me. Aptly named "Back to the Future," the time capsule container was gray and plastic, shaped like a blimp, and the length of a man's foot. And it was packed with little treasures: a wooden train whistle, Thomas pez dispensers, badges, patches, key chains, and Doggy Chew Chews; things a train enthusiast might like. Its hiding place? A big, black "climb on" locomotive at a railroad museum near my house.
To locate "Back to the Future" and other typical finds, here's what we have to do:
Log onto geocaching.com.
Visit the "Hide and Seek a Cache" page to locate the nearest caches in our area.
Enter the zip code and click.
Choose any geocache from a list and click on its name.
Enter the coordinates of the geocache into my granddaughter's phone or into a portable GPS device.
Next, using the GPS, we all get involved in the hunt for the cache which could be anywhere in the world; a local park, at the end of a long hike or bike trip, underwater, in a mall, or on the side of a city street.
Once we find the container, we take something out (in the case of the time capsule, the train whistle) and replace it with something of equal value (a George Washington dollar bill). Then we take pictures, sign the logbook, and replace the cache in its original location.
Back home, we share our treasure hunting stories and photographs with other family members and online.
I mention this because geocaching is a great, inexpensive summertime activity for kids and adults of any age. All you need is a GPS enabled device (your cell phone maybe), a little energy, and a sense of adventure.
By Viaux from Miami, Florida
My boyfriend Douglas introduced geocaching to us as something we could do together with my 9 year old son. It's become our newest hobby, we're totally hooked and go even when my son isn't with us. It's truly a thrifty and fun way to get out and explore neighborhoods, parks and other areas we would not otherwise have seen.
Wikipedia gives a really good overview of what geocaching is all about:
"Geocaching is an outdoor sporting activity in which the participants use a Global Positioning System (GPS) receiver or mobile device[2] and other navigational techniques to hide and seek containers, called geocaches or caches, anywhere in the world. A typical cache is a small waterproof container containing a logbook where the geocacher enters the date they found it and signs it with their established code name. Larger containers such as plastic storage containers (tupperware or similar) or ammo boxes can also contain items for trading, usually toys or trinkets of little value. Geocaching is often described as a game of high-tech hide and seek, sharing many aspects with benchmarking, trigpointing, orienteering, treasure-hunting, letterboxing, and waymarking..."
There are several geocaching sites out there but we use this site which is based out of Seattle where we're from. We have no affiliation with this organization other than being faithful members.
As of this time, there are 1,438,830 geocaches all over the world, so chances are there's one near you right now. As we were sitting here writing this article, we discovered a geocache merely a few feet away.
To give you an idea of the plethora of geocaches in our area alone, here's a screen shot of the Seattle area geocaches. All of the icons on this map represent the different types of geocaches and shows their location in our lovely city.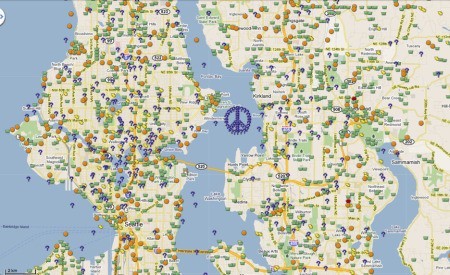 You don't have to be a member or really have anything other than the internet to get started. When we first started we set out with print outs of the descriptions and a borrowed GPS. We've enjoyed it so much, though, we've become premium members for a mere $30 a year or $10 every three months, which is still a bargain for some of the adventures we've had. The most you're likely to spend is $40 the first year (this includes a mobile app, that we've found to be useful.) Having the app on our phone means we don't have to print out any maps or cache descriptions/hints and the best thing about it is that it shows the closest geocaches to your location wherever you may be. The app has been a huge time and money saver for our most current passionate hobby.
This two minute video introduces you to the basics of geocaching:
Here's a short list of the necessities that we've found to be useful:
Computer with internet
A GPS or a GPS enabled phone
A fine tip pen (for writing in the logs)
Hand Sanitizer
Water bottle and a small towel (to wash our hands, if we get really dirty)
A small flashlight
A trash bag to put any trash we find along the way*
*We're firm adherents to the "cache in, trash out" philosophy wherever we go. For more information:
That's it. Our most recent approach has been to use our phone with the geocaching app. As premium members, we can can alter our search results to look for the geocaches that have been voted as member favorites. Which are often the most fun to find.
Here's a photo of a typical cache we've found including our signature "zilla" figurine that we leave for others at our favorite caches: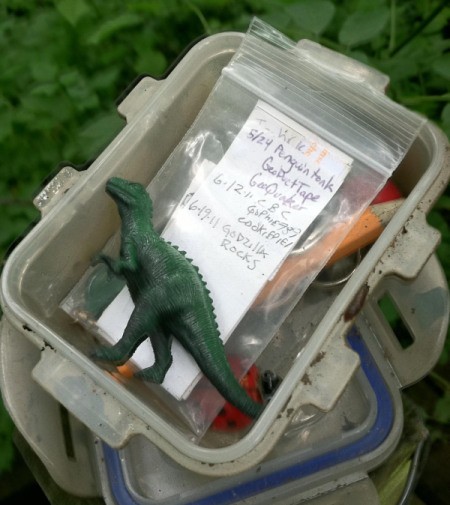 Since you're finding a "hidden" treasure, one of the main goals is to avoid having non geocachers (also known as "muggles", a term coined from Harry Potter) discover or disturb the cache, as it's imperative they remain at the intended coordinates.
Here's a photo we took of some "muggles" flanking a geocache we were after while writing this article: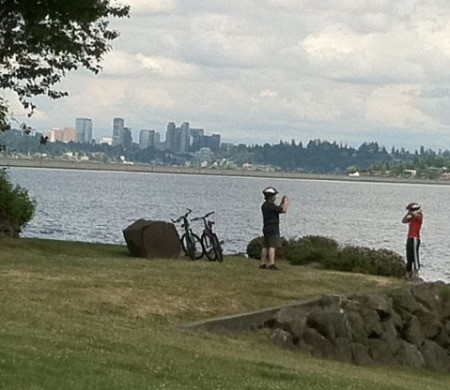 We've both lived in this city a long time and have discovered so many lovely places locally, that we never knew existed, and wherever we go, geocaching is always a fun, and inexpensive activity that has afforded us the ability to explore new places that we would not have otherwise explored without this hobby.
We look forward to hearing about your adventures in geocaching wherever you may find yourselves.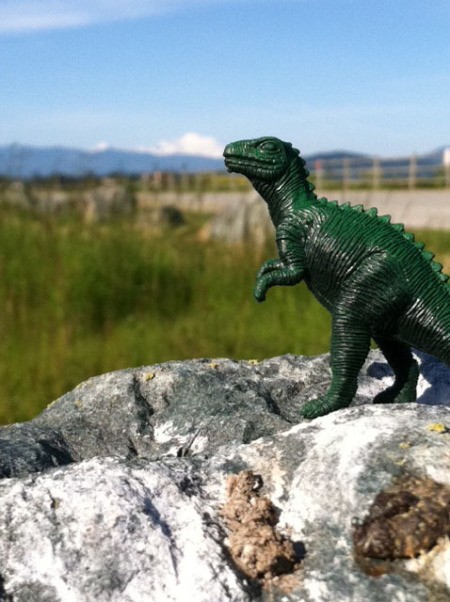 By mara and Douglas from Seattle, WA