I have an "all natural" solution for getting rid of mice. No poison, traps, or sprays to harm your pets or children and it smells awesome. I have had great success with this. Buy a bottle of 100% pure peppermint essential oil (you can buy an inexpensive brand as long as it says 100% pure on the label). Place 1 or 2 drops of the oil on a cotton ball and place the cotton balls around the house where the mice are visiting. They will just leave the premises.
Thanks.
Susan
Answers:
Get Rid of Mice Naturally With Peppermint Oil
RE: Where do you get peppermint oil?
You can purchase peppermint oil in your local health food store also some of the super grocery stores that have a large health section might carry them. Just buy the cheapest one that says 100% pure essential oil. One small bottle will last a very long time. If you have any questions you can e-mail me.
(04/12/2005)

By suzi_q_6873
Get Rid of Mice Naturally With Peppermint Oil
It works great for me and makes your house smell good. Thank you. (01/11/2006)

By Philhammond .
Get Rid of Mice Naturally With Peppermint Oil
It didn't work at all! I put the cotton balls all over the house, the 100% pure essential oil that I bought at a health food store. I really believed in this, but the mouse just walked right over it and right into the trap. Bang! At least I got one, but I was really hoping it would scare all the mice away. There was 3 cotton balls with 3 drops each within three feet of the trap. And they have only been there for 24 hrs. Maybe my mice like mint? Any other suggestions? (01/22/2006)
By Anna
Get Rid of Mice Naturally With Peppermint Oil
I have tried the peppermint oil and it doesn't work. The mice just steal the the cotton balls and rip them apart and you find them in different spots. I did use real peppermint oil so don't waste your time doing this. (12/11/2006)

By Jill
Get Rid of Mice Naturally With Peppermint Oil
I heard you can put moth balls around the areas and they hate the smell.

Editor's Note: Mothballs do deter a lot of things, but then we have a lot of people coming back to find out how to get rid of the mothball smell. They also can be harmful to pets. Use them with caution. (03/01/2007)

By Sue
Get Rid of Mice Naturally With Peppermint Oil
Be sure to use peppermint oil, not extract. The extract contains a sugar alcohol that attracts ants. You can also plant mint, but be very careful as it is invasive and spreads like wildfire once fully mature. We planted some near our camp, near the water and hit it with the weed whacker once a week and it keeps them out of the camper in the winter. Getting rid of the mice also helps keep the snakes away. The peppermint essential oil works good in the months when the plants are dormant. (03/07/2008)
By Rebecca
Get Rid of Mice Naturally With Peppermint Oil
Yes it works! I am so petrified of mice that I cry, literally. I used 100% Peppermint oil., now no mice and no droppings. (04/11/2008)

By Joy in Baltimore
Get Rid of Mice Naturally With Peppermint Oil
Worked for me. When I opened up my camping trailer in 2007, it was loaded with mouse droppings. When I closed it in 2007, I put peppermint oil in cups throughout the trailer (would suggest using glass as it seems to melt the plastic cups). When I opened up this past weekend, I could still smell the peppermint, and not one mouse dropping in the trailer. It is so worth it to me! (05/12/2008)

By Pam
Get Rid of Mice Naturally With Peppermint Oil
We've had mice in our walls for 10 years. We've tried everything. The peppermint oil does work. It's fantastic! For the first time in 10 years we don't have any mice. It worked in the garage too! (06/05/2008)
By Kristi
Get Rid of Mice Naturally With Peppermint Oil
Go to http://www.bodyoilsny.com/ . We carry the best peppermint oil to get rid of mice. (08/07/2008)

By Michael
Get Rid of Mice Naturally With Peppermint Oil
I bought my peppermint oil at GNC, I just started using it, hope it works! (08/13/2008)

By Heidi
Get Rid of Mice Naturally With Peppermint Oil
I have been using peppermint oil to deter the mice from our summer home for three years now. As we open the house in the spring, and when we close it in the fall. I bought cheap disposable aluminum muffin tins, cut them to make individual cups, and put the peppermint oil cotton balls in them. That way there is no mess from the oil. I haven't seen any mice in three years now, and the house smells pleasant. (10/01/2008)
By mamadole
Where to buy the Peppermint Oil
You can get it from any organic store. You have to get "pure" peppermint oil. Nothing else will substitute.

My cousin has been a janitor for years and says its the only thing that has worked for him to get rid of mice for the last 25 years. This is the time of year that they want to come into your home so its time to get some. Soak cotton balls in it and put them around your home. They will not come back! (10/29/2008)

By Sassymama22
Get Rid of Mice Naturally With Peppermint Oil
Peppermint oil is $20 at GNC. Instead, buy it at iherb for $10, Now Foods Peppermint Oil, 4 oz. Use code HIT028 to get $5 off.
It does get rid of mice and ants! Also, mix it with a little oil or aloe vera and put on your dogs paws to calm them when it storms. (11/02/2008)
By J.White
Get Rid of Mice Naturally With Peppermint Oil
If the peppermint doesn't work for you, try spearmint. In aromatherapy classes, they recommend it! (11/23/2008)
Get Rid of Mice Naturally With Peppermint Oil
I had good success with peppermint oil. It has kept mice out of my underground spring house and water tank house, where they were always nesting before. I made a long-term peppermint scent dispenser using oil lamp parts from Lehman's Hardware in Kidron, Ohio. They sell a canning jar oil lamp adapter for $1.95, and a #2 oil lamp burner for $2.95. Put these together, screw the adapter onto a 4 oz canning jar containing peppermint oil, turn up the wick, and you have a non-stop mouse deterrent that lasts for months on one fill.
Obviously, you don't light it! I'm sure peppermint oil is highly inflammable.
(08/20/2009)

By BobAcland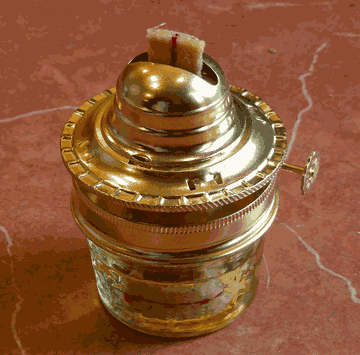 Get Rid of Mice Naturally With Peppermint Oil
We had trouble with mice getting into our motorhome while stored in the yard. We went to Tractor Supply and in the rat poison section there was a box containing 4 small canvas bags with some kind of natural stuff in it that keeps mice and rats away from the area you place them in. We put all four small bags in our RV four months ago and haven't seen any evidence of mice since. The bags have a nice scent to us, but apparently rodents don't like it. (08/20/2009)

By bsmoreland
Get Rid of Mice Naturally With Peppermint Oil
For people who say peppermint oil doesn't work. Everyone needs to remember that if there are mice in your house/RV, etc. and you place the cotton balls around, the mice can't get outside. Rid yourself of the mice, then use the peppermint oil to keep them out. (02/06/2010)

By Rick
Get Rid of Mice Naturally With Peppermint Oil
Warning to cat owners! Peppermint oil is toxic to cats! It can actually kill them. Please do not use peppermint around your cats! Google it! (03/23/2010)

Get Rid of Mice Naturally With Peppermint Oil
It sure does work for me! When my husband and I moved into our house, there were rats and mice in the attic. After no luck with traps, and not wanting to use poisons, I learned about peppermint oil for rodents from our local organic plant nursery. Bought some oil at Whole Foods, soaked cotton balls and scattered around the attic, and they left immediately. Haven't had an attic invader in 3 years now! (See warning at bottom about cats and peppermint oil!)

However, last summer, mice and rats started eating all of the "almost ripe" tomatoes in our garden each night. (We actually saw mice eating them, so we knew they were the guilty party.) This time, instead of buying the peppermint oil, which can get spendy, I started making my own. I bought a peppermint plant, but didn't want to plant it in the garden, because they are so invasive and get out of control quickly. I always keep anything in the mint family in a pot only!

To make your own: (This is not intended for an aromatherapy grade peppermint oil! For that you must wash and thoroughly dry the leaves, use a sterile jar and lid, and use a carrier oil such as grape seed or almond oil. This is my quickie "Just for Rodents oil".

Cut a large handful of peppermint leaves. (I use some softer stems as well.) Put them in a clean jar (8-10oz size is what I use) then use the back of a spoon to smash them lightly. This will cause the leaves to begin releasing their oils. Fill jar with vegetable oil, put lid on, and shake well. I let it sit about 72 hours to get pretty strong. Next put through a strainer to separate oil from leaves, and discard leaves. I sprinkle the oil around the raised veggie garden beds. (be sure not to get any oil ON the plants because if you live someplace hot like me in TX, the sun will fry the oil and it will burn your plants!) I also sprinkle some along our fence where we have seen them en route to the garden. I put out more every few days, especially after watering or rain. Viola! No more destroyed tomatoes. I started to do that this year when tomatoes first started to produce fruit, and have had no mice. You can also sprinkle it around garbage cans to keep them away, plus it covers yucky garbage smells.

A few notes:
Peppermint oil "is" toxic to cats. Do not use around cats!
Spearmint, and plain mint oils work too, but not were not as effective for me.
Peppermint extract (used for baking) Did not work at all for me, as they walked right by it, without a care. Since that is alcohol based, it probably evaporates too quickly, taking 90% of the odor with it.
Hope this helps. (06/27/2010)
By CynVamp
Get Rid of Mice Naturally With Peppermint Oil
I use peppermint oil all the time to keep mice away, and it keeps ants from coming in to my home. They are both allergic to the peppermint and if you have yard rodents put a piece of spearmint gum in their hole and they will be gone. It is not magic, it takes time and you have to replace the cotton balls about every 3 to 4 weeks. (09/18/2010)

By jermar