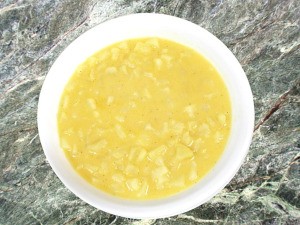 Have you ever wondered how much force is required for your heart to pump blood from your feet back to your heart? I'm sure that force has been measured, and I'm sure it's a lot. And to think, that ticker can do that 24/7 for 70, 80, 90 years, or more. Amazing!
But, our hearts don't always stay at peak performance. They tend to become less efficient as we age. Mine ain't what it use to be. Because of that, I have developed some peripheral edema.
My doctor prescribed a 'fluid pill'. It had absolutely no effect, whatsoever. But, that's beside the point. Had it worked properly, there's a chance it could have caused my potassium levels to fall below normal. As a safeguard against this, my doctor also prescribed 750mg tablets of potassium.
The prescription for potassium wasn't expensive, but now I wonder if I really needed it at all. Today, I discovered something most of you may already know. That is, the potassium content in potatoes. It seems that the average size potato (about 5.3 ounces), contains around 620 mg potassium. So, a potato a bit larger would provide the equivalent of the potassium in the tablet.
People, I eat a lot of potatoes. I seriously doubt my potassium levels would fall below normal, even while taking fluid pills. While I don't suggest anyone stopping medication without consulting their doctor, if you eat potatoes a few times a week and are using an over the counter potassium supplement, you probably don't need it.
My two favorite potato dishes are potato salad and stewed potatoes. I do a wicked version of both. Tonight, I stewed a pot of yellow potatoes fresh from the fields of Florida.
To the pot of diced potatoes barely covered with water (enough for about four servings), I add about half a flavoring packet from a serving of Ramen Chicken flavored noodles. Next, I add a small pinch of salt, black pepper to taste, about a tablespoon of butter. a tablespoon (no more) of powdered coffee creamer, and usually, though optional, a healthy portion of some type shredded cheese. Tonight, I used sharp cheddar, but I think Velveeta actually tastes better.
After bringing potatoes to a boil, I reduce heat, cover and simmer to desired degree of tenderness. Best served with fried, individual cakes of cornbread, homemade with buttermilk. Goes well with fried pork chops and gravy and fried or stewed cabbage. This is man food, Y'all.
The four or five servings in the picture? Honey, they'll all be gone by midnight.
Yeah, I'm sure I get all the potassium I need.