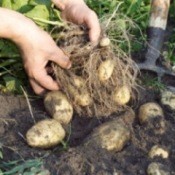 If you like potatoes, consider planting a few hills in your garden. For the small amount of space they take up, they will easily earn their keep by providing you with a high return on your investment. Not only do fresh garden-grown potatoes taste better than store-bought potatoes, but they also keep better in storage. Here are some tips for harvesting and storing them.
How to Harvest
"New" Potatoes: The small, thin-skinned potatoes you see at the grocery store that are commonly referred to as "new" potatoes are actually young, immature potatoes. They are a delicious treat when boiled (keep the skins on) and can be harvested as soon as your potato plants start to blossom.
To harvest them, simply sweep aside the dirt around the base of the plants and gently pick off tubers of the appropriate size. You can remove several tubers without hurting the plant and sacrificing your later harvest. Early potatoes have very thin skins and don't store well. It's best to harvest what you need and wash and eat them immediately after harvesting.
Mature Potatoes: When your potato plants turn brown and start to die back, they have sent the last of their energy into the ground to the growing tubers. It's at this point that your potatoes have officially reached maturity and are ready for harvest. You can dig beneath the plants by hand and remove them individually, or lift several out several at once by digging along the edge of a row using a 5-pronged garden fork.
Try to avoid spearing or nicking any of the potatoes, since damaged potatoes don't store well and need to be eaten right away. Don't worry about removing any attached stems. They will fall off as your potatoes dry. Lay newly harvested potatoes out in the open to dry out for a couple of hours (in the shade), then brush of any remaining dirt with a soft cloth. Don't wash them to get them clean, as they are very hard to get dry again.
Green Spots: Green spots on potatoes indicate the presence of solanine, a toxic, bitter tasting substance that develops when potatoes are exposed to light-either while growing or while they are in storage. Solanine can make you seriously ill when ingested in large enough quantities. Because the damage is usually located just under the skin, you can usually peel or cut away green spots and eliminate the problem. If the potato is more than half green, throw it out.
The Curing Process
Potatoes are relatively thin-skinned and will invariably suffer a few minor dings and bruises during harvesting. In order to extend their storage life without a loss of flavor and seal up any minor wounds, it's necessary to toughen up their skins through the process of curing. To do this, spread your potatoes out on newspapers in a dark place where the temperature is about 50 F to 60 F and the humidity high. Leave them to cure for about 2 weeks before moving them to storage.
Storing Your Harvest
The key to successful storage of your potato harvest is providing them with the correct conditions. This means storing them in a dark, moderately humid location at temperatures around 40 F. Your potatoes are still "breathing" and carrying out a certain number of biological processes during storage, so the ideal container needs to provide plenty of air circulation.
Store them in wooden barrels, crates, or bushel baskets. Metal or plastic garbage cans will work as long as there are ample air holes punched in the sides and bottom. You can also pile potatoes loosely in the corner, provided you don't pile them too deep.
Additional storage tips:
Potatoes that are visibly nicked or bruised during harvesting won't store well, so eat them as soon as you can. Check your harvest regularly for signs of rotting potatoes.
With proper care, potatoes can be stored all winter (4 to 6 months). Do not wash them until you're ready to eat them.
To prevent sprouting, keep stored potatoes in the dark and make sure the temperature remains below 50 F.
Don't store potatoes in the refrigerator or at temperatures too much lower than 40 F. Cooler temperatures slow down the natural "breathing" process that occurs during storage and cause starches in the potatoes to turn to sugar. This results in a sweeter taste. If you find your potatoes getting sweet, "recondition" them (convert the sugar back to starch) by bringing a small amount out of storage and letting them sit at warmer temperatures for a week or so before eating.

Jess
Silver Post Medal for All Time! 267 Posts
July 31, 2011
0

found this helpful
Top Comment
Wow, I just harvested potatoes a couple of days ago. Good timing.
I planted some sprouting grocery store potatoes in the spring. Too bad I didn't see this first, I made a couple of mistakes.
The storage instructions are pretty helpful so I can cure them correctly. I'll do better next year. :)