Photo Description
Yeah, I know, littergitter would tell me I should have left them in the ground longer, Right LG?
I won't give you any tips on growing spuds, they're easy as pie. And I should have left them growing in the container til the plants bloomed. But, I have so many things to water, I just get tired sometimes. I will tell you I started them from sprouting taters I got from the grocery store.
Anyway, they will taste just as good, and being small, I'll just boil them whole without even peeling them. A little salt and pepper, a little butter, and a big hoe cake of cornbread.
Are you listening, LG? There's a pan of well water on the back porch and a cake of Octagon soap. Wash up like a nice little girl for you come to the table, now.
Add your voice! Click below to comment. ThriftyFun is powered by your wisdom!
June 12, 2018
0

found this helpful
Yum. Potatoes are one of my favourite homegrown items. I'm having a hard time getting my homegrown tomatoes to taste super good. They're better than store-bought but still blah. Any tips?
June 12, 2018
0

found this helpful
Maybe they aren't ripe enough yet. I'll be interested to see what people say to improve them.
June 12, 2018
0

found this helpful
Many things could be going on here. My guess is it's your beautifully mild weather. I don't know how hot your area will get, later on, but the hotter, the better.
So, there's hope yet. Tomatoes are best when grown in extreme heat. If nothing else, you could cover a craft board with foil and direct the sun's reflection onto the plant(s).
June 12, 2018
1

found this helpful
I'm not that impatient to bite it when it's not ripe ;) Good idea with the foil reflecting heat. I asked my mum this Q today, as well, and she said I need better compost added to a good soil, and perhaps I overwater them. (Probably true. I'm such a giver.) She says that makes them taste watery. I'll make some adjustments!
June 12, 2018
0

found this helpful
Doug, those tatos do look good. The little ones with the skins are the best. I'll have to do a little digging and see what I can find in our potato row.
I really don't know when they are ready to dig. I have heard that it's when the vine starts dying out. I'm hoping to get some nice ones this year and freeze more that I did last year.
June 16, 2018
0

found this helpful
I dug a few potatoes for dinner tonight. I would not have thought to dig for them this early if I had not seen your tip. Thank you.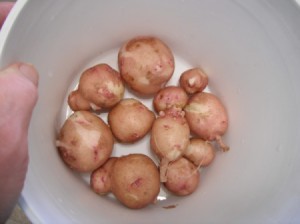 June 20, 2018
0

found this helpful
They look good!
June 13, 2018
1

found this helpful
I did boil a pot of these potatoes as you can see in the picture. The skins were thinner than onion skin. It scraped off so easily with a small paring knife. It took less than 20 minutes to cook them.
These are probably the best potatoes I've ever tasted, much better than white. I creamed a few of them. Smooth and delicious.
This is a case where it all was well worth it. I had a large ice chest already filled with rich organic soil. In late February, when I saw the potatoes were sprouting, I cut up a few into hunks with 3-4 sprouts on each.
I planted the pieces in the chest, almost sure they would freeze, then rot. Well, they didn't freeze or rot. They grew into what is pictured. Almost no effort for a nice small harvest.
I plan to grow more next year than I did this year, assuming the grocer will have the potatoes, again. And assuming the potatoes will not have been treated so they wont sprout.
Gardening requires a lot of assuming and a bit of faith; and in this case, very little effort. Instead of dropping the sprouting spuds into the garbage, I dropped then into the ice chest. What could have been easier?
Add your voice! Click below to comment. ThriftyFun is powered by your wisdom!