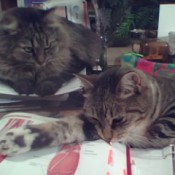 When I give my house-cats, Josie and Fuzzybutt, their bath, I love each one up really good first. Then I pick her up and get into the shower with her. I have the water just right for her and have the two separate large plastic cups from a Quickstop with diluted shampoo and conditioner ready on the floor. Pouring this mixture slowly over the animal helps you evenly distribute it through the hair and not get it all in one spot. It also helps it get rinsed out better.
I get to her level and use the hose and sprayer at the softest level and wet her down and soap her up. I turn the water off when I don't need it, and this keeps her from being traumatized. She may act like she hates it, but she really likes it!
Dogs and cats that only get bathed occasionally need skin conditioning just like we do. Their skin can get dry and flaky and cause scratching. Have your towels over the wall or shower rod and wrap your kitty up to calm and soothe them. Absorb as much water as possible before releasing your cat in the closed bathroom. Keep the kitty confined till nearly dry. Change towels several times to dry.
Source: I learned to use my shampoo and conditioner from working at my friend's grooming salon.
By Carlajo from TX
My cat, Teddy, is impossible to bathe. Although normally cats do not require a bath, he sometimes seems to get dirty using his litter box and then smells, albeit rarely this happens. This is going to sound harsh, but he really does not cooperate usually, so I put him in the tub and then placed a tall plastic laundry basket over him and held it down, or you could have a helper do that part. Our shower has a hand-held hose, so then I just sprayed him wet through the holes in the laundry basket. He was unable to escape or scratch me. I avoided his ears and face. When he was soaked, I used my old Joy dish soap container with watered down shampoo to suds him, because by this point he had stopped meowing in protest and relegated himself to the whole procedure. I held his back down so he was squat to the tub bottom while sudsing. All the while I chat with him in a soothing tone, then place the laundry basket over him again and spray rinse. Have a towel at the ready, lift off the laundry basket, wrap the kitty and dry. Ta da, done!
By Carrie from N Liberty, IA
Catherine Forman
0

found this helpful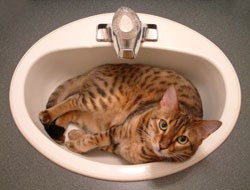 You may feel like giving your cat a bath is akin to taking your life in your own hands' but it doesn't have to be a traumatic experience. Really!
If you have a short haired cat, consider yourself lucky. They very rarely need a bath. Long haired cats, however, often need grooming help from their owners. Unless you start giving baths when your cat is a kitten, your cat may not be thrilled with the idea of a scrub in the tub.
Prepare everything you need before starting. You'll want a few towels, feline or baby shampoo, and a shower attachment or large cup for wetting and rinsing. If you are planning to use a conditioner on your long haired cat, you will need the conditioner and a wide-toothed metal comb for detangling. You may also want to bribe a friend or family member into helping you give the bath.
A flat-based sink is best, a cat in a curved sink may be wrigglier as she tries to keep her footing on the slick, wet surface. Make sure the room is warm and secure! If there is a place to escape, your frantic wet cat will find it. Fill the sink about two inches with warm water, test the temperature before putting your cat in. Use the cup or shower attachment to wet the fur, then apply a drop of shampoo and work into a lather. Don't let the foam get into your cat's ears, nose, mouth, or eyes! You may want to only wet and scrub up to the neck to avoid any accidents. Rinse thoroughly.
If you are using a conditioner, add a drop of conditioner and use the wide-toothed metal comb to work it through the fur. Rinse thoroughly.
Squeeze the excess water out of your cat's coat by running your hands down her body, legs, and tail. Wrap her in a towel and lift her out of the sink. Rub gently to dry her, you may need more than one towel! After toweling, you will need to comb her to help untangle the hair.
You may want to use a hairdryer set on low to help dry your cat. Don't hold the dryer too close! While you lightly blow the air over your cat, lift and comb the fur to help it dry. Be careful to separate any knots with your fingers, and pay special attention to any areas where the fur tends to mat, on the legs, belly, armpits, and groin.
Could someone please advise me how to clean my cat? I adopted Beffie some time ago from a shelter. The hair on his back is very dirty and hard, but there is no way I will be able to bath him, as he HATES being held. Could I dust him with baby powder/Maizena and then brush him?
Thank you!
Kind regards,
Carol from Republic of South Africa
Answers
July 31, 2007
0

found this helpful
I think it's wonderful that you adoped your cat and saved him from a shelter. I would not use anything not made especially for cats, as many things are toxic to cats that wouldn't be toxic to dogs. I would either brush him very often or use a damp wash cloth and try to get the fur cleaned that way.
August 1, 2007
0

found this helpful
http://www.kool … 5017&RID=323
This is a pet care site, when you said your cat didnt like to be held I thought the first set of gloves you see on this site would be good, there are other care things for his hair. You can probly write the name of item and find at you local pet store. Good Luck!
August 1, 2007
0

found this helpful
There are some "cat cleaning wipes" that you can buy at pet stores. However I tried it on my new cat who never has had an actual bath, and she balked at it bigtime. She hated it. But for some cats that might work.
By guest (Guest Post)
August 1, 2007
0

found this helpful
We have an outdoor cat with extreamly long hair that always gets matted. We simply can not brush him often enough to keep it under control. Solution? Just cut the matted areas off. He doesn't love it but he tolerates it. It lookis kind of funny at first but he has so much hair we don't know what else to do with him. Maybe if you trimmed the bad areas you could keep him clean in the future and the problem would not re occur.
By guest (Guest Post)
August 1, 2007
0

found this helpful
One thing I found that worked for me back when I had a cat was to get an old window screen and place in the bottom of the tub/sink. This gives the cat something to dig his/her claws into while bathing them. Good Luck, Hope this helps
August 1, 2007
0

found this helpful
A cat can be bathed, but very, very carefully. I would suggest (even if it's hot weather) to dress in heavy clothing and gloves. Have the tub full of nice warm water BEFORE putting the cat in. And you have to hold him/her down firmly. Once they realize they can't get away, they quit fighting.
They will glower at you for a little while afterwards, but you will have a clean cat, and they'll forget it over a little time.
The gloves and heavy clothing is for your protection. I once gave a cat a bath and she got one of her hind claws on the inside of my elbow and dug a hole in it. Talk about being painful - it was! I don't know that I especially had to, but I did go and get a tetanus shot.
Needless to say, I rarely give a cat a bath. I have heard though that if you give them baths starting when they are kittens, they don't fight it quite so hard.
By guest (Guest Post)
August 1, 2007
0

found this helpful
Hello...
If you can't bathe your fur baby, you can take him to a groomer and have it done there. Also, if your kitty has really hard fur, please take him to his Veterinarian for a check up.
Good luck
By guest (Guest Post)
August 1, 2007
0

found this helpful
If there is something sticky or oily on the cat, I agree with the lady who suggested cutting off the mats. If it is just built up dirt and skin oil, try brushing and stroking with a damp wash cloth. Perhaps you will have to do this daily for some time to get the cat clean if he is not used to being handled. Eventually, he should become accustomed to being held and brushed. Of course, now that you have him, he may be able to keep himself spic and span. My cat is too fat to reach the middle of his back to wash, so I have to use the damp cloth and brush on him to help him out.
I once had a cat that was sprayed with oil from the highway. We bathed her, but the oil never really came out. Eventually, the hair fell off; she had new short hair underneath. Another time, I had a shorthaired cat that got into used motor oil. I gave him a bath with tepid water and baby shampoo. We had to bath him several times to get it all out. Since cats wash themselves, the soap that you use has to be very mild and well rinced out, or it could be worse for the cat than whatever they have on their fur to begin with. You could check with the shelter or your vet for advice as well.
By guest (Guest Post)
August 1, 2007
0

found this helpful
I would first try asking your vet to give your fur baby a bath since he's so matted. This way , they can check to make sure there's nothing really wrong with your fur baby.
Congrats on ur adoption! I hope ur baby gives you as much pleasure as ours have given us. I wish for a long and happy , healthy life for ur new fur baby!
I have also given baths to our cats several times. They all make sounds like you feel like they think you're killing them! They do get quite vocal on you! They just hate water period! I have found that if I hold the back of their necks like their Mom's would do, with out lifting them off the bottom of the tub , they don't fight you much at all. It's what is known as the submissive hold. It does not hurt the cat , they just automatically stop fighting you! Make sure you close the bathroom door to keep him inside until you towel dry them or you will have water all over your house! I use Johnson and Johnson Baby Shampoo on them as it's so safe for babies , that it's safe enough for cats or dogs. Have used it for years! Just make sure you rinse all the soap off so they don't get a build up and irratate their skin. If in doubt , rinse them off again and again till you see no more shampoo!
They also like to be wrapped in a dry towel and let them stay inside it till they want to come out. Most importantly, keep your baby away from air conditioning or drafts so they don't get chilled or sick on you, till they are almost dry. They will try to lick themselves dry too.
Hope this helps you! Good Luck!
By guest (Guest Post)
August 1, 2007
0

found this helpful
They sell bags for washing cats in. This keeps the cat unable to claw you and you just have to focus on the teeth. Best to have one person restrain the cat while another baths him. I would guess that any close meshed bag, would serve the purpose.
By guest (Guest Post)
August 2, 2007
0

found this helpful
I have washed my cats, when necessary, in the kitchen sink, using pet shampoo that is labelled for cats - dog shampoo is not the same stuff. You can then rinse with warm water using the kitchen faucet, which is convenient, and cuts down on the amount of time the cat is actually sitting in the water.
I had a friend, a brand new cat owner, who decided to bathe his cat - he was holding the cat against his bare chest as he stepped into and turned on his shower. I know it's not really funny, but this was definitely a case where ignorance was NOT bliss!
By guest (Guest Post)
August 2, 2007
0

found this helpful
WARNING ! DO NOT PUT BABY POWDER ON YOUR CAT. IT CAN KILL PETS! I'd sprinkle corn flour, leave on permanently if your cat is in the house and not outside, because the flour absorbs. If outside, he may not be trusting enough to be tamed so I'd forget the dirt and concentrate on getting him well and healthy. Food is one of the best ways to get a pet to trust us over time, IF we do NOT try to touch them too much. Some cats born outside just don't want to be touched at all. If you are able to ever touch the animal, I'd certainly not jump in an try to eliminate hair right away. That's the least of the cat's problems. I'd try taming, so that one day, after the hair begins to dry out, it will allow you to tamper A BIT with the dirty hair. It is likely something like old food from a trash can, or someone tried to get rid of him and swatted him with a cup of something sugared. He likely then tried to clean himself/herself
by rolling over in the dirt, which may have been greasy or dirtier than normal? The cat may have been trapped inside a dirty box and finally escaped. Who can tell? Regardless, take your time and be patient. Perhaps with God's help, you will gain it's trust. God bless and help you. : )
August 3, 2007
0

found this helpful
Definitely have someone help, since it often takes two to bathe a cat properly, one to hold the pet and the other to wash it. I find it easiest to fill a sink partially with water, place the hind legs in the water, and allow the cat to "stand" while holding the front legs up. Be careful not to push the cat down too hard if it tries to jump out. The excess pressure on the back legs can hurt the cat (even to the point of fracturing the legs). And have the towels ready--you won't be able to get it out of the water quick enough.
Read More Answers
March 7, 2006
0

found this helpful
I just wondered what people's opinions were on giving cats baths. My cat, Destiny, is an inside short-hair and when I first got her, I gave her some baths, which she hated, of course. As she got older, I had such a hard time giving her baths because I couldn't hold her in the tub and she'd claw me to death, and ultimately, I decided not to give her any more.

She never goes outside, so she doesn't get dirty and I know they keep themselves clean. Anyway, my mom has been having some problems lately and kind of decided it's the cat giving her trouble. I definitely don't want to give up my kitty, I love her too much, but my mom thought perhaps giving her a bath every 1-2 weeks might help with her problems somewhat.

I gave her a bath tonight and had a little more control holding her in the tub and we did get it done (as much as possible), but she really hates her bath - does anyone have any advice or opinions about this? Or an easy fast way of doing it?

Thank you so much!

Stacey from Orem, UT
Answers
By guest (Guest Post)
March 7, 2006
0

found this helpful
i have a shorthair and a long hair, both indoor.
it seems a bit odd ( especially to those who know you are doing it lol) but alot of cats like going in the shower better. apparently they like the flow of water better, its like a massage! and get less scared when they are held to you in a safe position ( i use her front to my front, and she places her paws on my chest, one hand under her tail, one around her upper back- ( my shorthair LOVES it!!) i just make sure the water isnt too hot, just comfortably warm and the stream isnt too strong, pick up kitty and get in the shower with her!! make sure you have her cuddled to you when you are doing it, the only time my cat struggles or gets scared is when i'm shampooing her because its hard to cuddle her close while doing it. -and only EVER use shampoo specially formulated for cats, human skin has a different ph to cats and shampoo for humans may burn your cats skin.
you also might need to take it slow to get your cat used to it, because she may freak out a bit at first- take her in there with the shower off, hold her for only a little time to start off with, and go from there. let her know if she panics, she can leave. my cat is extremely trusting of me ( she hasnt scratched me in her life, but she'll atack anything else that moves haha), so she has never spazzed out on me in the shower :P
she puts her ears back so she doesnt get water in them and points her face up into the stream.
its very cute!!
i towel dry her and put her in front of the heater to dry off.
also, you can reduce the amount of hair coming out ( and sticking to you!) by brushing her before you get in the shower, also brushing her and wiping her with a wet cloth daily/ every two days (however often you need to) will help to reduce loose hair and dust irritating your mothers allergies (i assume its allergies)
hope this helps!
March 8, 2006
0

found this helpful
I bathe mine all the time. They get used to it after 3-4 times. You can also use allercat c available at pet shops and fabreeze allergy reducer spray. The most important thing in cat allergies is diet. The pet page on www.abundantlifeessentials.com has all the information on finding the right pet foods. Animals only produce allergies in people when they are exposed to something they are allergic to. Also it could be the cat litter that is bothering your mom. Cats get it all over them. Get one with no perfumes or dust. I recommend Dr. Elseys available at petsmart. Good Luck
March 8, 2006
0

found this helpful
Yes my cat loved her showers. She also liked her
baths the key being to start young. Make it fun for
the cat. you might want to start with the bucket method.
1)cat shampoo and water bucket
2)clear lukewarm rinse bucket
3)clear lukewarm final rinse
towels LOTS
dip cat in each bucket so they can stand with cat deathgrip claws hanging on bucket rim not your skin
be gentle but FIRM
have a good grip
most important tip
keep door closed otherwise you will have a soaking
wet mad CAT running for its life through your house
and it will find your best bedding, couch to find
shelter (I learned this the hard way)
good luck
By guest (Guest Post)
March 8, 2006
0

found this helpful
I give my persian baths occasionally. She doesn't really like them but has been bathed all her life so she doesn't freak out. I put her in a tub of water and pull the shower door or curtain over close to me so she doesn't think she can get out, or at least she hasn't tried. Good luck
By guest (Guest Post)
March 9, 2006
0

found this helpful
I feel I'm a conscientions pet owner. I dont give my cat a bath. I let her groom herself. She stays indoors and keeps clean. Shes has a wonderful smell when I put my nose to her fur. Frankly, sometimes I wonder how she does that.. lol.. Cats are innately afraid of anything coming down on their heads.. For hunting, they position themselves on something higher.. tree or rock.. and jump down on their prey. Let your heart be your guide.
March 9, 2006
0

found this helpful
In a cat magazine, once, I saw a bath for a cat. It was like a large shoebox, with a neck hole cut out of one end. You would put the cat in with her head sticking out the neckhole, then there was another piece you would put on the box to hold the cats head, while bathing the whole rear of the cat in the box. Looked like a great idea, only at the time I could not afford to buy it. I have often wondered how to make something like that. My cats go in and out and can get fleas readily. Then I have to bath them which they hate. See if your dad or mom could rig something like that for you to bath your cat.
By guest (Guest Post)
March 12, 2006
0

found this helpful
I have used Allerpet on my cats to keep the allergens from pet dander down. It comes in a squirt bottle, and you can apply it with a washcloth or papertowel. Just squirt some on the cloth and wipe down your cat with it. My cat loved it--felt like she was just getting a good pet and a little extra attention.
Read More Answers
August 28, 2008
0

found this helpful
How can I bathe a stray cat that evidently got into some nasty smelling stuff, like swamp water.
Thank you,
Cynthia in PA
Answers:
Bathing a Cat
Bathing cats is a tricky proposition anytime, but with a stray that probably doesn't know you very well... Have some band aids on hand. Here's how we bathe our cat (when he rarely needs it):

Fill the bathtub with water. Put an old shower curtain on the curtain rod (you don't want an angry cat shredding your good shower curtain). Make sure you have your cat shampoo (don't use people shampoo) easily at hand. Also make sure you have an old towel handy too. Pull the curtain shut.

Now, find the cat. Hold him and pet him and talk to him nice on the way to the bathroom. When you get in the bathroom, close the door immediately. Pull back the shower curtain just enough (probably with a foot) to stuff the cat in. From here on, you have to work VERY fast. Plunge said cat in the water. Pour shampoo on him (DON'T LET GO OF HIM!) and lather. If you have someone willing to help you pour the shampoo on, it will make it a little easier. After you've lathered him enough, plunge him in the water again to get all the shampoo off. WARNING: It may take several plunges and strong arms. After he's clean, swaddle him in a towel to dry him off as much as you can.

To minimize the risk of injury (to you), you can try bathing him with elbow-length oven mitts, but I prefer to have my fingers free to get the best grip on him. If you happen to have one of those nice sprayer heads on your shower (the kind like hospitals have that's on a hose), use it so you don't need to plunge the cat in the water. You could also do this in an enclosed shower, but then there's more of you exposed to angry cat claws.

Be prepared for him to sulk under a bed the rest of the day. Good luck!

Camilla (02/07/2005)

By calnorth
Bathing a Cat
Oohhh - you're very brave Camilla! I wouldn't bother - its a cat - they are very clean animals and it will clean itself given time. Just feed it outside until the smell subsides - if the food is there it shouldn't stray again. Scared cats, as I would imagine a stray would be, can scratch and bite very severely - the bites are very deep and usually become infected. Is it really worth it???? You can be kind and care for this cat while waiting for nature to take its course without putting yourself at risk.

Regards

Jo (02/07/2005)

By Jo Bodey
Bathing a Cat
This may sound cruel, but it certainly works. fill the bathtub with warm, tepid water. find your cat and put it in a plastic animal carrier, making sure there are drainage holes in the bottom and sides. Have your cat shampoo handy. You will also need a sprayer like described above, only one that fits on your faucet for your tub. Lower the cat and carrier into the tub. You might want to apply the shampoo before putting the cat into the carrier. Of course this will make him suspicious, so be prepared for the cat to bolt. Shut the bathroom door. You can also add the shampoo to the carrier after it is in the tub. When you lower him into the tub in the cat carrier he will thrash about (kind of like a washing maching agitator). Allow him to "swim" about for a few minutes. You should talk to him and try to reassure him. Oh yes, have a large towel or two handy for when you are all done to dry the cat. Once he has agitated the water in the tub and has therefore "washed" himself, drain the tub. Use the sprayer with tepid water to rinse the cat thoroughly. drain the water out of the cat carrier and tub. I usually rinsed him at least twice. As you are opening the carrier door, have the towel ready to throw over him as he exits. This will slow him down. When you throw a towel (or blanket) over a cat they will usually stop moving until they figure out what's going on so Scoop him up in the towel(wrapping him up tightly) quickly and dry him as best you can. Be sure to talk to the animal throughout this whole process lovingly. Use more than one towel if necessary. Although the cat might sulk for a couple of hours, he will soon realize that because you didn't drown him that he can trust you and will soon come around. Also feed him something he really likes. This worked with a stray I took in that needed a bath. This cat, whom I named Rufus, stayed with me after that for fifteen years and was very well behaved. He was allowed to go out side and could have left at any time. Wait until the cat is completely dry before allowing him to go outside. This sure beats getting scratched up or bitten, or worse yet being defecated on(which cats have been know to do). (02/19/2005)

By sue
Bathing a Cat
when i bath my cat i take her into the laundry sink i fill it up only so it just covers her legs i then hold her by the collar and pat her for a while before doing anything that way she calms down a bit then i poor cat shampoo on her and massage it. Now this bit gets tricky i hold her really tight and turn on the tap and put her under there until its all rinsed of then i put her in a towel dry her off a bit and then let her do the rest. (03/12/2005)

By cinta
Bathing a Cat
Ok, Now i don't know how well you know this cat, but when i bath my cats, i Round up and extra person to help. and i start by filling the bathe tub with about 6 inches of warm water. Also make sure you ahve a big plastic cup ready , have the extra person grab the cats front and back paws, and use the cup to wet the cat. once the cat is wet, you can let him run around the bath room floor( make sure nothing in floor is important.) and shampoo him while he is walking around the bathroom. this causes less stress for both the cat and you. then let the soap sit in for a few minutes, to kill any fleas, then grap your helper again and hold his paws and rinse him off water out of the cup. i have had cats all my life and i have found that if you dont turn the water on in the tub while you bath them that they are less scared. the loud noise from the spout freaks the cats out.
good luck (07/28/2005)

By Kimmi