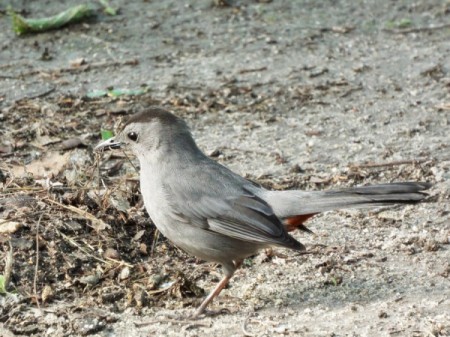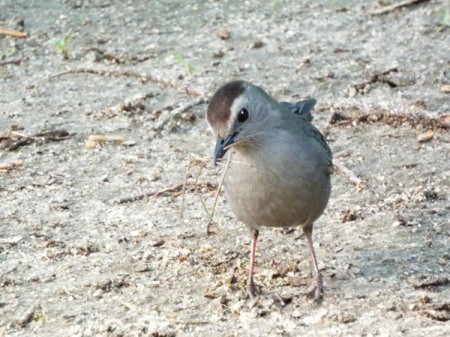 Photo Description
I caught a pair of gray catbirds gathering nest building materials. Both gather materials, while the female builds the nest. The male can be distinguished here by the reddish patch at the rump.
These birds will hang very close to humans. They will gaze at you as if trying to communicate something. I believe they are. I find these birds extremely intelligent. This couple has already been eyeing my strawberries, blueberries, and blackberries. The nest will be located close to this food supply, some of it still a good two months away.
If there is the smallest access hole anywhere in a mass of netting, these birds will search diligently til they find it. Outsmarting them is a challenge!
What are they communicating? Maybe, 'I'm watching you watch me. And the moment your back is turned, I'll find a way through that net. Nice of you to help me hone my skills, Sucka!'.

All in all, they're nice to have around.
Add your voice! Click below to comment. ThriftyFun is powered by your wisdom!
May 5, 2017
0

found this helpful
Nice photos - I have always thought that many animals are thinking about our actions and would communicate if they could. My birds will always let me know if their favorite bird feeders are empty and I believe they understand when they are in a very safe area. One of my wrens has built her nest in a straw filled basket on my back porch and I feel sure she thinks I put it there just for her.
My "bucket list" has a few items about traveling to some of the open zoos where the animals are free to roam in their manmade natural habitat and my final wish for "my reward" in the hereafter is to be able to work with animals and plants.
Thanks again for a very pleasant read and lovely photos.
Betty
Add your voice! Click below to comment. ThriftyFun is powered by your wisdom!