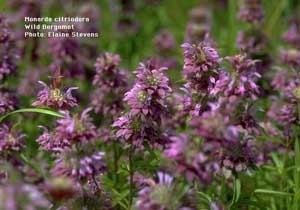 Botanical Name:
Monarda didyma
Common names:
Bergamot, Bee Balm, Oswego tea
Description:
Bergamot is grown for its decorative flowers and aromatic foliage. The plants consist of tubular, crown-like flowers on top of 3 to 4 foot stems with dark green aromatic leaves. Usually bright scarlet in color, the flowers bloom in mid to late summer and also come in salmon, pink, mauve, purple or white, which, along with most gardeners, bees and hummingbirds also find attractive.
Life Cycle:
perennial
Exposure:
full sun or partial shade
Cultivation:
Bergamot like moist, fertile soil so work plenty of compost into the ground before planting each spring.
Propagation:
seeds or cuttings; divide clumps in autumn every two years; named cultivars must be propagated by cuttings or division.
Parts Used:
leaves; sweet orange-like fragrance
Harvesting and Storage:
cut fresh leaves for use as needed
Medicinal Uses:
aromatherapy
Culinary Uses:
use leaves in salads, fruit salads, fruit drinks, teas (flowers), pork and other meat dishes.
Other Uses:
use flowers and leaves for wreaths, posies, aromatic bath water, cut flowers, perennial border and beds, potpourri, perfumes, scented oil and candles
Editor's Note: This is not the same bergamot as is used in Earl Grey Tea. That flavoring is derived from Bergamot oranges but the scent is very similar.