EllenB
Gold Post Medal for All Time! 858 Posts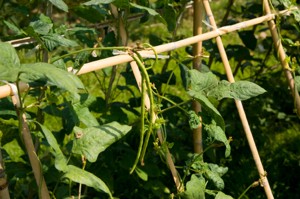 There is a growing movement among gardeners to be more water wise about what they plant. Here are some common edibles considered drought tolerant, and some tips that will help you conserve water when the weather turns dry.
How Much Water is Ideal?
Typically, edibles need somewhere in the range of 1-2 inches of water per week during the growing season, although this can vary according to their stage of growth. This amount of water is usually enough to soak the top 8-12 inches of soil.
What Defines a Drought Tolerant Plant?
Drought tolerant plants are not the same as drought resistant plants (true desert plants). Instead, they have been adapted (either through natural selection or engineered breeding) to survive for short periods of time with less water in arid climates. In most cases, the term drought tolerant applies to mature plants, not developing seedlings.
Crops and Seeds From Arid Regions
Like people, some fruits and vegetables are genetically designed to take the heat better than others. As a general rule, warm season crops (tomatoes, squash, melons) will usually fare better during a drought than cool season crops because they originate from parts of the world where periods of drought are part of the normal weather pattern. Many of these crops send their roots deep early, so by mid-summerís heat they are able to draw water from deeper in the soil.
Heirloom varieties from warm, dry regions are also better adapted to drought conditions. If you live in a cooler climate and decide to grow them, make sure your can accommodate the length of their growing season. Many Southwestern seed companies offer special "drought-tolerant" collections of garden seeds that include beans, greens, tomatoes, melons, and even corn.A list of the edibles considered more drought-tolerant:
Vegetables
asparagus
beans (southern varieties like those in the cow-pea group)
corn (native varieties, not sweet corn)
leeks
melons
okra
pumpkins
rhubarb
root vegetables (parsnip and carrots)
sweet potatoes
tomatoes
Fruits
apricots
currents
figs
grapes
peaches
pineapples
guavas
pomegranates
Herbs
borage
chives
fennel
feverfew
germander
lavender
rosemary
sage
savory
thyme
wormwood
yarrow
Water Requirements By Stage
Not every plant has the same needs at the same time. Most are tolerant to short periods of drought as long as they get water during crucial times. Instead of following a weekly watering schedule, focus on watering each plant according to its stage of development.
Germinating seeds: Keep the soil moist using a fine mist to avoid washing away.
Developing seedlings: Young plants should be kept uniformly moist, but not wet. As they grow, water them deeply rather than frequently to encourage deep roots.
Transplants: Water them in well after planting to help minimize shock.
Mature Plants: Give them 1-2 inches of water approximately every 5-7 days during hot weather. Let the top 2 inches of soil dry out between watering.
Vegetables about to set fruit (e.g. peas, beans, squash, potatoes, tomatoes, berries and fruit trees): Giving these vegetables too much water right before they flower only encourages the growth of more leaves and shoots. Instead, water them as their fruits and pods are forming. Tomatoes, in particular, benefit from receiving less water in mid to late summer when their fruit starts to grow large.
Root Crops: Get them off to a good start, then avoid over-watering them, which promotes leaf growth and causes split roots.
Tips for Conserving Water
Use rain barrels, stock tanks, or cisterns to catch and store rainwater. All water storage systems should closed or at least covered with a fine screen to keep insects from breeding and prevent small animals from falling in and drowning.
Mulch, mulch, mulch! Cover bare soil with mulch to prevent water loss and keep roots cool.
Hand watering (this takes awhile), soaker hoses, and drip irrigation systems are the most efficient means of delivering water.
Water plants with deep roots less frequently, but give them enough water to soak the top 18-24 inches of soil.
Erect a temporary windbreak next to your garden to protect it from drying winds during extended periods of drought.
Comments
Read More

Comments